Dance Therapy Services
Evidence-Based Community Wellness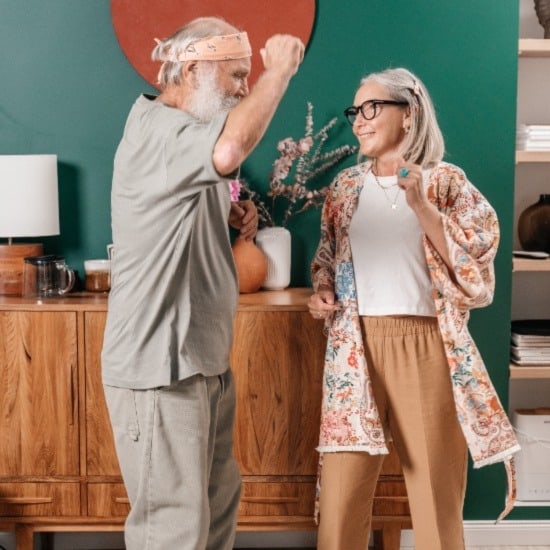 Dance Therapy Helps Community Wellness
Help your community experience well-being through this fun and engaging evidence-based wellness program. Great for communities, dance therapy has well-documented benefits.
A study found that dance therapy was effective at improving symptoms of depression after just 12 weeks. Another found it helped students reduce anxiety before an important test. Dance therapy has even been associated with a reduced risk of cancer.
What is Dance Therapy?
Strive dance therapy community wellness programs are known as dance/ movement therapy. It's a psychotherapeutic way of using movement to:
Help participants become more self-aware
Increase their emotional, social, physical, and mental well-being
Dance therapy is a formally-recognized therapeutic technique. It's based on the idea that body, mind, and spirit are connected. Movement helps participants tap into all three for better self-expression. The senses are stimulated with music, interaction, and participation. Elements of meditation and guided relaxation are combined with physical therapy for a comprehensive mind-body-spirit experience.
​The Neville Brothers were onto something with their song, "Dance Your Blues Away." A combination of music and movement is effective at helping to:
Increase strength
Foster self-expression
Boost emotions
Get rid of the blues
Does Dance Therapy Have Benefits?
Yes. An evidence-based wellness program, dance therapy has well-documented benefits. It's awesome for healing. Participants improve their sense of well-being in many ways:
Social bonding – decreases isolation, provides connection with a group
Physical activity – reduces muscle tension and anxiety
Rhythmic movement and music – boosts physical and mental energy
A better ability to cope with stress of disease or injury
New perspectives brought on by creative self-expression
Joy and confidence allows negative emotions to surface and be processed
Improved fitness, muscle tone, and strength
Better thinking skills, memory, and motivation
Helps Participants Achieve a Variety of Goals:
Improving self-esteem and body image

Practicing effective communication skills

Developing relationships

Expanding their movement vocabulary

Gaining insight into behavior patterns

Creating new options for coping with problems
Strive dance therapists help your community experience these benefits, while having fun.
What Populations do Dance Therapists Serve?
The programs are ideal for populations at:
Senior residential centers
Retirement communities
Nursing home facilities
They're also offered by:
Government assisted living centers
Community outreach programs
Rehabilitation centers
Medical institutions
How do I Implement a Community Dance Therapy Program?
Implementing a dance therapy program can be overwhelming. However, Strive makes it simple, providing a project coordinator for your organization. This point of contact will work with you. They'll assess your needs and determine the scope of your community dance program.
Strive makes implementing your programs a breeze! We've established a nationwide network of vendors, instructors, and service providers. This makes it easy to kick off your program in one retirement community, or in senior living centers across the country. Our turnkey wellness service includes:
Finding pre-screened, fully qualified instructors
Arranging necessary equipment and supplies
Creating and distributing marketing materials
Enrolling and scheduling participants
Handling electronic liability waivers
Providing reports to assess participation
Consolidating billing and administration
​What's a Strive Dance Therapy Program Like?
Participants are guided through a variety of movement styles and dance techniques. These include:
Traditional steps, like ballroom dancing.
Subtle forms of movement, like yoga and stretching, to calm the body.
Sessions center around movement, incorporating subtle, expressive, and improvisational dance. The needs and abilities of all participants are accommodated. The instructor observes and assesses; then creates specific goals for each participant's needs.
Strive dance/movement therapists can:
Develop treatment plans and goals
Collaborate with professionals from other disciplines
Help participants achieve their goals
Use movement as the primary medium
Is Dance/Movement Therapy New?
Dance therapy programs are rooted in modern dance, curated in the 1940s' by dancers like Isadora Duncan, and Martha Graham. Modern dance emphasizes movement as an expression of individuality. This is different than ballet or tap, which are form-driven dance styles.
Dance instructor Marian Chance realized many students use dance as an emotional outlet, to express feelings they couldn't articulate. She studied psychology, incorporating that knowledge with dance. In 1966, she helped form the American Dance Therapy Association (ADTA).
Popular dance therapy programs are:
Wheelchair Zumba

Dance party

Mind/body relaxation
Who are Strive Community Dance Therapists?
With Strive, you're assured fully-qualified instructors. Strive dance therapists have:
Additionally they've typically:
Received Masters Degrees
Taken dance/movement therapy training, from qualified instructors
Strive certified dance therapists:
Have experience working with a wide range of ages, and fitness levels.
Can adapt classes for individuals, small groups, or a large number of participants.
In all cases, they've completed necessary coursework and fieldwork. And have significant dance experience. We conduct extensive background, reference, and credential checks for our dance therapists.
What About Liability?
You'll be fully covered by our comprehensive liability insurance. This includes workers compensation and a provision of services. Rest assured that your organization is indemnified of risk when you work with Strive.
What Community Wellness Services does Strive Offer?
Here's a sample of Strive Well-Being community wellness programs:
Disease prevention
Disease management
and more!
If you're just starting a wellness initiative, we'll help you build a well-rounded evidence-based program. Choose from:
Musculoskeletal Strengthening programs that reduce injury
Stress Management offerings to improve overall health
On-site fitness offerings like yoga classes
Onsite Nutritionists and Health Coaching
Add complementary Strive services at any point in your programming. Your Strive project manager will seamlessly integrate them into your existing initiatives.
We make wellness easy!