Onsite & Virtual Stretching Classes for the Workplace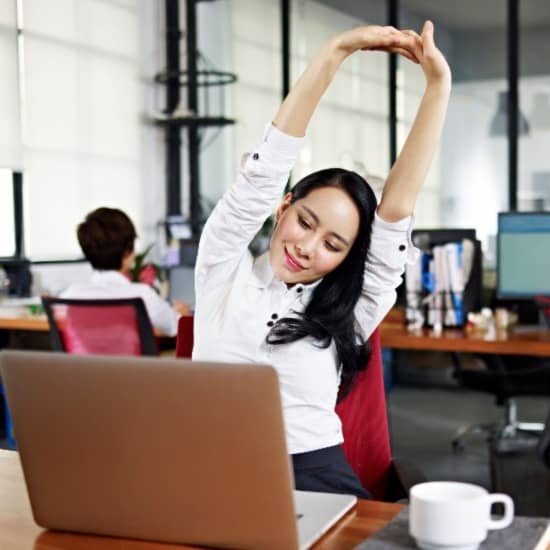 Corporate Onsite & Virtual Stretching Classes
Regular stretching is important for employees in office settings. It's also necessary for those doing physically-demanding work.
Stretching releases tension. It relieves overworked and overused muscles. Military service-members and senior citizens who practice stretching regularly have experienced positive effects from doing so. Stretching gets stiff muscles moving! 
Corporate Stretching Classes have Many Benefits
Strive onsite stretching classes reduce turnover, minimize absenteeism, and lower healthcare costs. Whether you're sitting all day at a desk or have a job that involves a lot of physical activity, it's hard to find the time and energy to work out at the end of the day. Getting into a proper stretching routine can be even harder.
For many of us, stretching is an afterthought. It may involve a quick minute of toe-touches or heel-grasps after completing a "real" workout. However, skipping out on stretching means skipping out on benefits you can't get from exercise alone. Our onsite stretching program makes it easy to reap the advantages of regular stretching.
Stretching is recommended by prominent health and wellness organizations, including:
The American Council on Exercise

American College of Sports Medicine
Are There any Health Benefits to Stretching?
Yes! Stretching promotes:
Increased flexibility
Expanded range of motion
Reduced risk of injury
Boosted overall health
Improved well being
In fact, research shows the benefits to regular stretching include:
Improved blood and nutrient supply to muscles
Better posture from increased muscle strength
Mental calmness and clarity
Lower stress levels as tension is released from muscle tissues
Energy boosts from improved blood flow
What are Positive Results from Stretching Classes?
Activity: Employees using computers all day, practiced brief stretching exercises at their workstations.
Result: They experienced short-term relief from musculoskeletal discomfort.
Activity: Military recruits performing static stretching.
Result: They had a lower rate of muscle or tendon injury, and they experienced less back pain.
Activity: Seniors following a regular stretching routine.
Result: They showed improvement in gait, spinal mobility, and hamstring flexibility.
Activity: Construction workers did 8 weeks of at-home stretching and shoulder strengthening exercises.
Result: They experienced less pain and disability, and they experienced better shoulder function.
WARNING: Stretching is only beneficial when it's done correctly. There are right and wrong ways to stretch. Our onsite stretching classes are key to an effective Musculoskeletal Strengthening Program.
How do I Set Up a Strive Stretching Program?
Together, you and your dedicated Strive program manager will determine the types of classes to offer. You'll coordinate on how frequently they'll be offered. Then, your Strive program coordinator will take care of the rest. You'll receive marketing materials, such as flyers and posters, to let your employees know about the stretching classes they can join onsite. Strive will even handle the enrollment process. We'll also take care of distribution and management of electronic liability waiver forms. As your program progresses, we'll run regular reports, examining participation levels and engagement. We make it easy for you to add classes or make adjustments at any time.
What Does a Stretching Class Include?
Groups of all fitness levels can participate. Classes are tailored to the needs of participants. Stretching classes are a team-building exercise. They unite employees and create shared experiences. There's another bonus of stretching. Along with helping relieve stress and pain, stretching can improve sleep. The result is higher productivity, and improved overall health. With extended participation, participants may gain muscle, or lose weight. Additionally, when management participates in onsite group classes, morale is lifted. Workers get the impression that management cares about them.
Strive Well-Being onsite classes combine breathing and stretching with focus on proper alignment. The result is relaxation, and stress-reduction. Experienced instructors guide participants through stretches, ensuring correct form to properly stretch the muscles and avoid injury. They modify poses for participants with existing injuries or physical limitations.
Samples of Strive Stretching Classes:
Active Stretching – An invigorating class designed to engage all major muscle groups. It allows for a deep active stretch.

Deep Stretching – A combination of breathing and gentle stretching. This slower-paced class focuses on alignment, relaxation, and stress-reduction.

Musculoskeletal Strengthening Stretching (MSK) — This class leads stretches aimed at improving spinal and lower back pain or issues. Musculoskeletal Strengthening Stretching helps avoid repetitive stress injuries common to desk or office work.

Power Stretching – A great mix of core strengthening and abdominal exercises.  This class is designed to help improve overall alignment and flexibility of the body.
What do Participants Learn in an Stretching Class?
Participants learn and practice the right way to stretch. They're guided through a series of motions, designed to increase flexibility and decrease pain. Instructors make corrections for participants, to prevent them from injury and over-straining. Strive's onsite stretching classes are structured sessions. They're taught by certified group fitness instructors or registered yoga teachers, depending upon the type of course you implement.
Who are Strive Instructors?
Strive instructors are pre-screened and fully-qualified with current CPR and AED certifications. Instructors are covered under Strives' comprehensive liability insurance. This includes workers compensation and a provision of services, fully indemnifying your organization of risk.
What are Some Results of Stretching Classes?
Research concludes that benefits of stretching, extend to preventing work-related musculoskeletal disorders. When employees stretch together in an organized Onsite Stretching Class, the benefits are even more rewarding. Results for a company that implemented an onsite stretching program in tandem with other ergonomic initiatives showed:
Absenteeism went down 67%
Musculoskeletal disorder cases went down by 50%
Firefighters who stretched daily for 30-minutes, lowered injury-related healthcare expenses by 64%.
Your assigned Strive project coordinator will help create an onsite stretching program that best meets your organizational needs.
Combine onsite stretching classes with various Strive employee wellness programs. Examples are:
Onsite fitness
Stress management initiatives
Strive operates nationwide. We can customize your classes for delivery at one site, or we can coordinate programs at multiple locations. Your Strive project manager will be your primary point of contact. They'll handle your entire wellness initiative, including:
Personnel
Equipment
Administration
Billing
With Strive, wellness couldn't be easier!