Functional Fitness Training
Help Seniors Gain Strength to Make Daily Activities Accessible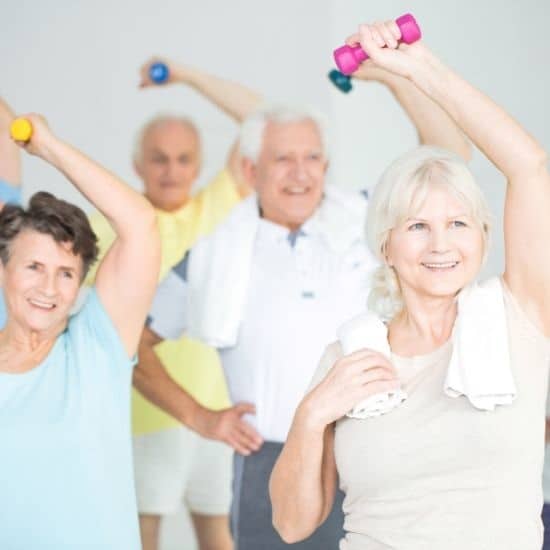 Functional Fitness Training Programs 
Strive functional fitness training programs nationwide help seniors. It provides them with an opportunity to develop physical fitness in a safe, comfortable environment. 
While having fun with fellow community members!
What is Functional Fitness Training?
It's hot! Functional fitness classes are running everywhere. Also, known as Feeling Fit Classes, you can find them all around town. At boot camps in the park, and Tabata at the local community center. Functional fitness training is designed to gain strength needed to make every day activities more accessible.
What Kind of Movement does Functional Fitness Include?
Movements replicating everyday motions. Practicing these movements are intended to make daily things you do easier. Like reaching for something on a shelf. Or walking up stairs. Even jumping over a puddle of water. Emphasis of classes is on:
Gaining strength
Improving balance
Aerobic endurance
Increasing flexibility
Attention is on correct form and posture. Classes feature a wide variety of movements, in particular:
Lunges
Squats
Leg raises
Push-ups
Hurdle steps
Bridging
Moves practiced in Strive functional fitness feeling fit classes are devised to engage as many joints and muscles as possible. By strengthening your muscles together, you teach those muscles to work in coordination. As a result, they'll support you, as you go about doing normal activities.
Where is Functional Fitness Training Offered?
Functional fitness training programs nationwide help seniors get fit in gyms or at fitness clubs in their communities.
What's Involved in Functional Fitness Classes?
A fitness instructor leads a specific combination of functional fitness movements.  Moves focus on muscles often used with poor form and prone to injury. Feeling fit moves help correct poor form and strengthen those muscles. The result is a dynamic workout that's fun and effective!
Who can Perform Functional Fitness Training?
It's ideal for older adults, because it can be modified for all levels. Most class members stand up. However, movements can be performed from a seated position. Light weights are used until members build up strength to progress to the next level.
What are Examples of Functional Fitness Classes?
Popular examples of classes incorporating functional fitness are:
Tabata

Boot Camp

Vipr PT
What are Benefits of Feeling Fit Programs?
One study found that older participants completing a circuit of 12 functional exercises, for four weeks, experienced significant improvements in:
Lower and upper body strength
Agility
Endurance
Shoulder flexibility
A study of untrained teenage girls found similar results, after six-weeks, with functional fitness providing:
Better movement quality
Muscle strength
Flexibility
More power
Functional fitness training is effective in preventing injury. Firefighters underwent a training program to improve core strength and flexibility, and the number of injuries reduced by 42%. Time lost due to injury reduced by 62% over 12 months.
Who are Strive Feeling Fit Instructors?
Strive Feeling Fit classes are taught by credentialed, certified personal trainers or group fitness instructors. We complete comprehensive background and reference checks. And we require instructors to have relevant experience working with participants of all ages, and variety of health issues. Every instructor will adapt classes to your community's capabilities. They're able to make safe adjustments for participants with injuries and disabilities.
What can I Expect Working with Strive?
We make fitness simple! We'll assigning a project manager to handle administrative details. Your project manager will work with you, determining which elements to include, and scheduling. We'll hire credentialed staff to teach your classes. We work with you, coordinating class facilities and equipment. We'll do everything it takes to get your program started, and keep it running smoothly, including:
Creating marketing materials to promote the program to your community
Handling sign-up or enrollment with electronic liability waiver forms
Providing real-time program reports to help you track participation
Minimizing administration billing, with all paperwork directly from Strive
Add community evidence-based well being services to compliment your Feeling Fit program. Our full range of services help your community participants:
Manage health conditions
Become more active
Participate in creative therapies, promoting wellness and peace of mind
Create a full roster of Strive community health programs. Our nationwide services deliver your program anywhere in the country. Your entire initiative will be handled by your dedicated Strive project manager. We ensure you have one point of contact, so your program runs seamlessly, and you're never buried in administrative details.
What about Liability?
When you offer group wellness services, your organization faces potential liability. If someone in your program is injured or something goes wrong, that means trouble. Strives' instructor qualification requirements and screening minimize this risk. Strive protects your organization further by providing comprehensive liability insurance. Complete with workers compensation and a provision of service, it fully indemnifies your organization of all liability.
Strive makes fitness easy!