Onsite & Virtual Health Talks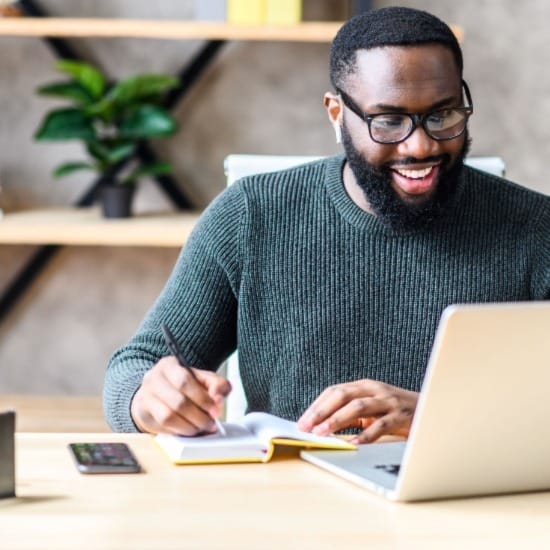 Educational Health Talks
Are you looking to help your employees feel supported and engaged at work? Do you want to support your employees with stress management and coping?
Now it's easy, with Strive's virtual health talks on a full spectrum of health and wellness topics. If you can't find a topic you want, ask us. We'll customize a topic to meet your population's specific needs.
Strive's virtual health talks are professionally delivered by our nationwide network of certified health coaches and education specialists. Your virtual health and wellness talk will be delivered in a turnkey fashion using our proprietary registration platform. No need to worry about compliance issues. The Strive delivery platform is HIPAA compliant- and fully secured with end-to-end encryption.
Need reporting? We've got you covered. You'll receive detailed reporting on engagement and utilization. Certainly, you're busy with everything going on right now. You don't need to add anything else to your plate. Rest assured; we'll handle all administrative details for you. Your virtual health talk is fully administered by Strive Well-Being. Let us take care of: 
Full coordination 

Communication and marketing administration

Delivering a variety of virtual fitness and wellness topics

Providing utilization and engagement reporting via our dashboard
Clients have loved Strive's virtual health talks:
"Strive has been innovative and creative in their integrated suite of virtual wellness and return-to-work services, designed to help keep workers fit and well during the current health pandemic.  I know that when we offer Strive services to our clients, they are going to be safe, high-quality solutions that respond to the fast-changing health and fitness needs of those employers," says Robin Rager, Ph.D., Vice President, Health Management at Keenan.
Strive Virtual Health Talks on Mindfulness
How to be "fully present" and manage distractions
Mindfulness/meditation 101
Quick tips for integrating yoga in the workplace
Releasing tension in the hips and back
Releasing tension in the neck and shoulders
Simple solutions to achieving high-quality sleep
Staying on track during crunch season
Train your mind: Managing pain and preventing injuries
Stress reduction and management 101
Stressed? Overwhelmed? Productivity and solving the myth of work-life balance
What are warning signs of stress? How to identify and manage it
Yoga fundamentals – what it is, benefits, and simple practices
Yoga for everyone – developing a practice at home
Yoga for migraines
Yoga for pain management
Mindfulness: Tips and tools to help disconnect
Working parents – how to manage work and parenthood
Stress management strategies for working parents
Ways to cope with stress 101
The power of positive thinking
Fifteen creative ways to reduce stress
Aligning chakras 101
Balancing work 101
Benefits of getting enough sleep
Beyond coping: learn how to overcome stress
Brainpower 101
Breathing, meditation, and mindfulness 101
Daily rituals for stress relief
Discovering stress relief practices that work for you
Harmful effects of stress and the mind-body connection
How to handle stress 101
How to sleep better at night
Improving sleep for a more energetic life
Incorporate yoga practices into your day, off the mat
Master the art of sleep
Mindful leadership using yoga and meditation practices
Mindfulness at work
Inspire better nutrition and improve quality of life for your employees. Choose from a variety of nutrition and healthy cooking virtual health talks.
Strive Nutrition and Healthy Cooking Virtual Talks
The ABC's of vitamins
Benefits of eating grass-fed
Benefits of eating organic
Best foods to eat and the best foods to avoid
Cheap, healthy eats
Clean eating: how to do it
Dietary guidelines 101
Eating during pregnancy
Eating healthy while eating out
Eating whole foods
Eat to reduce cardiovascular risks
Eat to reduce diabetes risks
How to: Clean and healthy eating
Fad diets
Food additives
Healthy eating, living well
Healthy food choices for weight management
Robust meal planning 101
Healthy nutrition 101
Healthy nutrition for the busy professional
Healthy and satisfying substitutes
Healthy fats/carbs/proteins and how they affect you
How food affects your mood and what you can do about it
How to incorporate green smoothies into a busy working lifestyle
How to meal plan/prep to set yourself up for success
Hydration 101
Improving cholesterol 101
Lunch – eat up for energy
How to make cooking a fun adventure for the family
Mindful eating
Office snacking: the do's and don'ts
Nutrition and wellness habits for high quality living
Mix-n-match veggies
Nutrition myths 101
Nutrition – meals under 30 Minutes and meal prepping
Power breakfast
Sensible and slimming snacks
Sugarholic: Kick the cravings and transform your health
Suggestions for stress eating
Superfoods 101
Supermarket survival
Vitamins, macros, micros, and all things nutrition 101
The dirty dozen/clean fifteen
The yoga of eating – principles for eating mindfully
Understanding alcohol
Unraveling food labels
What's for dinner?
Why sugar is so addicting and hazardous to your health
Five ways to feel fuller longer
Virtual fitness education talks inspire healthier habits and improve quality of life for your employees. Choose from our long list of topics.
Strive Virtual Fitness Education Talks
Avoiding back pain 101
Benefits of incorporating movement into your life
Daily microbreak stretches at your desk
Daily stretches at your desk for optimal vitality
Daily stretching routine
Discover what you love so exercising doesn't feel like a chore
Dispelling exercise myths
Exercise for busybodies
Exercise – getting started
How to battle the desk job body: exercise and ergonomics
Healthy fitness 101
How to construct a workout plan for different goals and schedules
How to maximize your workout
Physical activity tracking: mobile devices and wearable technology
Positive commitments to fitness
Secrets to getting into great shape for summer
Workout at your desk
10,000 steps
Three secrets to great abs
Eight time-saving tips to get fit and trim
Some of our clients involved under this initiative of virtual health talks include:
The nation's largest health plans

Federal agencies

Counties