Physical Therapist Services
Quick & Successful Recovery for Athletes and Military Service Members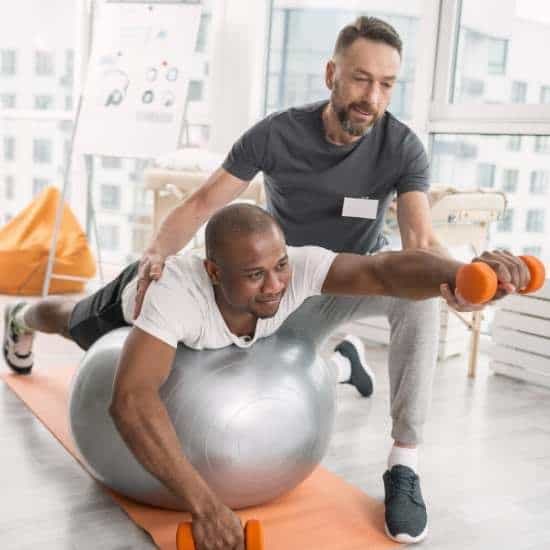 Physical Therapist Services for Strategic Recovery 
Physical therapists keep your teams in tip top shape! They're an invaluable part of any team prone to overuse injuries or other types of pain. Physical therapy strategic recovery programs help:
Athletes

Military personnel

Workers who perform heavy physical labor
By utilizing physical therapist services for strategic recovery, a patient may prevent loss of mobility before it starts – or treat injury without need for surgery.
Strive Physical Therapists Strategic Recovery Programs
Physical therapists (PT's) are highly-trained healthcare professionals. They provide hands-on, customized treatment plans. They help rehabilitate patients recovering from injuries. If you've ever had a severe physical injury, you know how vital physical therapy is for a speedy, successful recovery.
For highly-active athletes and military service members, strategic recovery programs are instrumental. They work on promoting recovery from injury. And they find ways to prevent overuse injuries and musculoskeletal disorders.
The American Physical Therapy Association states that PT's are movement experts who optimize quality of life through prescribed exercise, hands-on care, and patient education.
What do PT's do?
They work with a patient's doctor (or team of physicians), with the patient's family, and other health care providers. This ensures everyone is on the same page, taking necessary steps, for the patient to have a successful outcome and healthy recovery. 
Physical therapy (PT) isn't merely a series of exercises or strengthening moves. It's a strategic recovery plan that takes into account personal circumstances:
The type of injury that's been sustained
Treatment that's been administered so far
What kind of recovery is possible
The amount of recovery necessary
The intent is to meet demands of the patient's life, work, and goals.
What Facilities Utilize Physical Therapist Services for Strategic Recovery?
A wide variety of facilities utilize Strive physical therapists:
Rehabilitation clinics
Nursing homes
Schools
Fitness centers
PT's are an invaluable part of teams working with groups prone to overuse injuries or other types of pain:
Athletes
Military personnel
Workers who perform heavy physical labor
Are Physical Therapist Services Employed by the U.S. Government?
Yes. They're employed by state and federal government agencies, including:
Prisons
Veterans' Health Affairs
Indian Health Services
How does the Military Use Physical Therapists?
The military relies on PT for soldier readiness and soldier rehabilitation. They create training programs, treat injuries, and improve soldiers' quality of life. Army PT's serve as commanders of units and medical treatment facilities, conducting:
Neuro-musculoskeletal assessments
Energy conservation assessments
Battlefield unit needs assessments
They ensure optimal physical and mental health of soldiers.
The U.S. Air Force utilizes physical therapists, tasked to:
Identify and assess injuries
Create and implement treatment and recovery plans
Heal airmen by improving mobility and function, and minimizing pain
Military physical therapists deploy like other soldiers. They operate mobile PT clinics in war zones and areas of aggression.
In summary, physical therapist services are vital for speedy and successful recovery of athletes and military service members. Strive physical therapists will keep your teams in tip top shape!