Onsite & Virtual Stress Management Programs
Increase engagement and productivity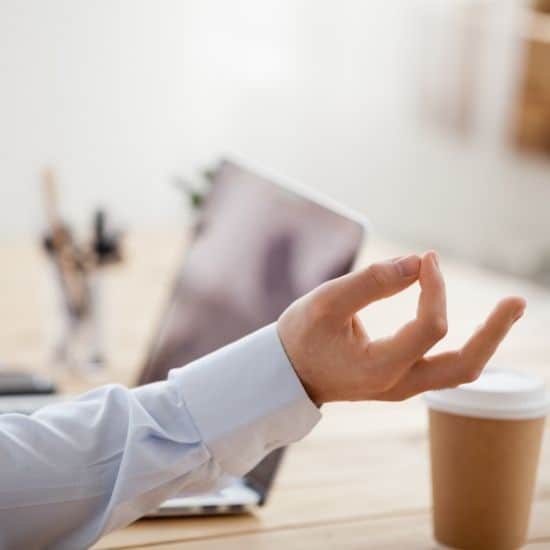 Workplace Stress Management Programs
Employer-sponsored on-site stress management programs are popping up in workplaces all over. Tech giants to accounting firms and government contractors are offering them. Strive stress management programs for employees are efficient for:
Boosting employee health and wellness
Increasing engagement and productivity
Corporate Stress Management Program Formats
Strive offers three types of programming to help employees cope with stress:
Live instructor-led classes (available onsite & virtually)
Stress management workshops (available onsite & virtually)
Health coaching from certified specialists (available onsite & virtually)
Onsite chair massages
What types of classes are offered?
Mindfulness-based stress reduction (MBSR)
Meditation
Breathing & relaxation
Yoga
Strive also provides fitness and nutrition programming for organizations interested in taking a holistic approach to stress management:
Work with a certified nutritionist to provide healthy snacks to fuel employee bodies and minds
Host virtual cooking demos to bring the team together and enjoy a healthy meal
Offer organized exercise, like group classes or regularly-scheduled walks
How Strive Gets Corporate Stress Management Programs Up and Running
Every client is assigned one of Strive's account managers that follows a time tested roadmap for launching new programs that works just as well for enhancing already running programs.
Administering a needs & interest survey to employees
Collaborating with the client to maximize wellness budget
Vetting instructors for classes & workshops
Coordinating location for onsite offerings
Marketing the program to employees
Hosting sign-ups through the Strive wellness platform
Fulfilling program schedule
Reporting & program assessment
Streamlined billing
The Strive account manager ensures the client's new initiatives are launched on schedule and the account managers are available for any ongoing tailoring to the program.