Hospital Fitness & Wellness Initiatives
For Employees, Community Members, & Patients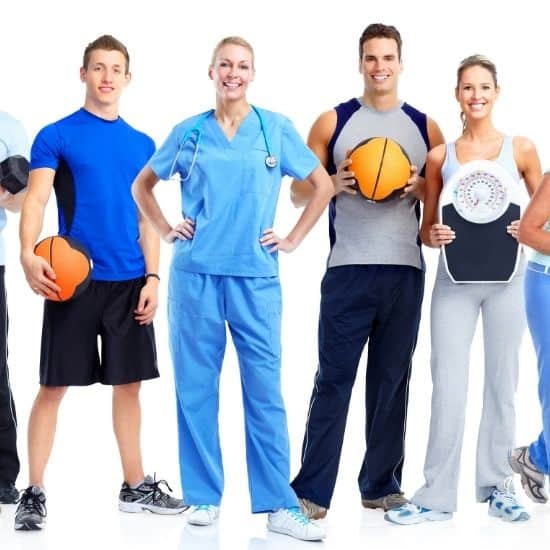 Hospital Fitness and Wellness Initiatives
Providing fitness and wellness services to hospital employees, patients, and their communities is one way Strive contributes to building community wellness. If you're a hospital in the market for community-facing health initiatives, let Strive lead your initiative to the finish line.
We help hospital employees, community members, and patients to:
Improve their fitness levels

Avoid dangerous health conditions

Improve their overall well being
Hospital Fitness and Wellness Programs
With Americans facing more health challenges than ever before, tackling issues from obesity to opioids, hospitals are taking steps not just to treat disease, but to help prevent it. Hospitals play a significant role in health care services, and there are currently over 5,500 registered hospitals in the US, including 4,840 community hospitals, 956 run by state and local governments, and 209 federal hospitals. They see a combined 35 million patients each year and have expenses that total over $9.9 billion annually.
Because hospitals are on the front lines of health care and interact with so many Americans, they're able to reach patients with health education services. These hospital fitness and wellness programs help to:
Prevent or manage disease

Improve physical fitness

Boost nutrition

Reduce stress
Everyone in America uses health care in some way. Whether for a prescription, a vaccination, a doctor's visit, or a surgery, health care is big business. In fact, it makes up approximately one-sixth of the U.S. economy. For that reason, hospital fitness and wellness programs are becoming standard in the industry. So much that, 87% of hospitals provide health and wellness programs. Trending program topics include:
Safety programs (ergonomics, workplace violence, etc) (92%)
Tobacco free facilities (92%)
Disease management (77%)
Stress management (74%)
Health screenings/biometric assessments (72%)
Personal health coaching (62%)
Hospitals provide these services for both patients and community members. Anyone in the community can enroll in a class to reap health and wellness benefits.
With over 16 million hospital worker jobs in the US, this population requires wellness and fitness services too. Hospital fitness and wellness programs help facility staff and healthcare workers in:
Managing stress

Getting health screenings

Incorporating better nutrition

Fitting exercise into their busy schedules
Effectiveness of Fitness and Wellness Programs
Hospital fitness and wellness programs have a proven track record of effectiveness. One study found that taking part in just one wellness activity improves health and lowers risk for disease. Participants who enrolled exclusively in a health coaching program were more likely to reduce any five of the following seven health risks:
Blood pressure
Body weight
Cholesterol levels
Nutrition
Physical Inactivity
Stress
Tobacco Use
While these participants only did health coaching, this study found that when they engaged in multiple wellness program activities, (like Onsite Fitness Classes or working with an Onsite Nutritionist) their risks were lowered even more.
Whether you're seeking services for hospital patients, employees, or community members, we'll create a program incorporating elements for each audience. Strive's hospital program expertise includes:
Employee-facing wellness programs

Community health and wellness services

Patient-facing well-being initiatives
What are Examples of Strive's Hospital Program Experience?
A custom-designed wellness challenge including onsite fitness classes. Outcome: Helped a Northern California healthcare provider engage and motivate community members.
Partnering with county hospitals in Southern California. Outcome: Provided art therapy and dance therapy classes for patients.
Working with the United States Department of Veterans Affairs. Outcome: Delivered therapeutic yoga services for veterans.
Creating onsite fitness centers in hospitals. Designing and developing the facilities, and then providing management services to keep them running effectively.
What is Strive's Process?
To customize your program, we'll designate a project coordinator to work with your point person or wellness committee. That point of contact will handle everything related to your program:
Identifying the audiences you want to reach.

Helping your team decide which components to include.

Working within your budget and any other factors.
Once the scope of your initiative has been determined, you can relax while your Strive project manager takes care of details. Your point of contact will get the program running. This includes:
Hiring prescreened, fully-qualified instructors
Providing marketing materials for employees, patients, or community members
Establishing a programming schedule and coordinating facilities
Handling online class enrollment or sign up sheets
Distributing and managing electronic liability waivers
Generating administration and invoices for all services directly from Strive
After your program is underway, you'll receive real-time reports assessing participation and engagement. You can add or remove classes at any time. You'll be able to adjust scheduling based on demand.
What About Liability?
To protect your organization from risk associated with your fitness and wellness program, we carry comprehensive liability insurance. This includes workers compensation and a provision of services. We ensure you're protected from all liability. It's one more way, we make wellness easy for you.