Fitness Center Design and Development Nationwide
Our integrated approach is strategic in designing and developing wellness spaces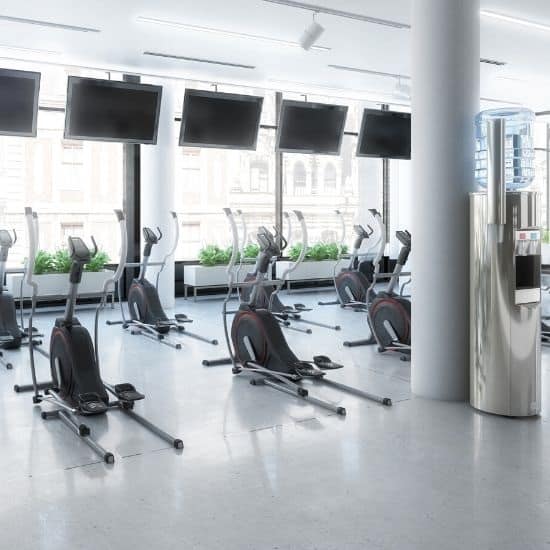 Fitness Center Design and Development Nationwide
Employers agree that having an onsite fitness center is a valuable recruiting tool. In fact, 92% of human resource leaders believe having a gym helps them stay competitive.
Strive Well-Being has over a decade of experience providing onsite fitness and wellness program consulting and management.
Why are onsite fitness centers important?
Onsite fitness centers are a prime perk for many U.S. companies. Employee gyms help improve health and reduce risk of disease. Strive provides fitness center design and development nationwide. These onsite fitness centers help companies attract and retain talent. Onsite fitness centers provide convenience – which 40-45% of employees say is their primary reason for using it. Employees reap holistic wellness benefits, like social connection and stress management.
Reasons for offering an onsite fitness center are clear:
Help attract employees
Encourage fitness participation
Yield measurable health and fitness results
Onsite employee fitness centers can be one of the most important aspects of a corporate wellness program. This facility often serves as the centerpiece of your entire initiative. It's a place where employees access exercise classes, health coaching, nutritional services, stress management programs, and more.
One report found 75% of employees want a personal touch from their employer wellness programs. They like having access to Health Coaching or Onsite Personal Fitness. Being able to talk with experts for advice, coaching, and guidance. Employee gyms provide this access, and more.
Is it easy to set up an onsite fitness center?
No, it's not easy for employers to design and build their own fitness centers. Employer wellness committees and HR teams struggle with implementation. They can become overwhelmed by details of:
construction and design challenges
which equipment and classes to offer
liability from hazards like poor lighting, ventilation, and cheap flooring
Companies face challenges in creating their onsite facilities. That's where Strive comes in! We'll guide you through determining size, space and scope.
What is best practice for onsite fitness center design and development nationwide?
Strive provides a seamless process to help employers create their onsite fitness centers. Our fitness center design and development includes:
Conceptual design
Construction
Arranging equipment
Sourcing machines
And more!
Strive Well-Being has over a decade of experience providing onsite fitness and wellness program consulting and management. Our integrated approach is strategic in designing and developing wellness spaces. Strives' knowledge and insight combine best practices with your needs. The result for you, is a simplified, streamlined experience. Strives' core expertise is workplace fitness and wellness program management. We handle all aspects of fitness center design and development nationwide:
Designing
Developing
Operating
Managing
Staffing
Scheduling
Strive will optimize your employee gym with increased engagement. You'll enjoy higher participation in your workplace fitness and wellness program.
How does Strive fitness center design work?
Here's how the Strive design process works. It starts with getting to know your core values, employees, and environment. This allows us to offer you the best solutions in facility design and development. Whether you're setting up fitness centers in one location or nationwide, we're your one-stop source.
As the project evolves, our experts provide comprehensive design and layout plans using the latest in 3-D technology. You'll get to review stunning models. We'll assess construction or space improvement plans as needed. You can be assured flooring, electrical, and gym requirements work in accordance with your approved layouts. You'll receive accurate bench marking and innovative recommendations. These are leveraged from data, research, and results from industry trends. You can rely on our long-term success, network, and relationships.
Applying our expertise, we'll help you determine appropriate space allocations. Areas for cardio, strength, and functional training equipment will be mapped out. Along with space plans for holistic services, group exercise, and multi-purpose wellness. Of course, there are layouts provided for locker rooms and amenities. All of your fitness center needs will be considered.
You'll receive a proposal for optimum combination of equipment and types of flooring. Audio/visual systems, number of lockers, HVAC components, and electrical outlets are accounted for. We cover everything necessary for you.
Working with Strive, you're in good hands. Our staff of industry experts has established fitness equipment partnerships. Over the years, we've cultivated a network of equipment manufacturers and service providers. They've been analyzed and vetted for quality, value, and reliability. As a result, we're able to offer the best recommendations. We'll design cardio, strength and free weight systems based on your budget, space, and anticipated use.
Strive ensures appropriate warranties and scheduled maintenance. This is included in the procurement process. Prior to opening the doors of your onsite fitness center or gym, you'll need operational procedures and policies in place. This will ensure your program runs smoothly and adheres to safety standards. We have expertise to help you create these guidelines. Once your employee gym or wellness center is designed, we'll handle the practical details to get it equipped, and up and running. We'll make sure you're fully-prepared when your employee gym opens.
We provide fitness consulting services and fitness center management services to help you:
Create your employee wellness initiative
Provide pre-screened, qualified staffing
Keep your center running with the latest trends in fitness
Deliver wellness programming for your employees
As a final note, be assured that Strive has a reliable, successful track record of managing fitness centers. References are available upon request.
What about liabilities involved with fitness center design and development?
Strive comprehensive liability coverage includes a worker's compensation clause and a provision of services. This ensures that your organization is fully indemnified and protected.
Clients Love Strive Well-Being
Over the past 10 years, we've supported virtually every industry sector, including many Fortune 500 companies and government agencies.