Corporate Chair Massage
Combats the effects of sitting too long
– and that's just the beginning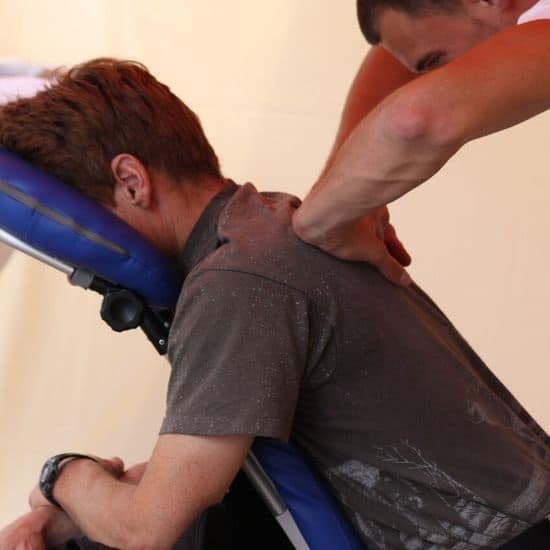 Corporate Chair Massage 
National service or local available onsite. Strive chair massage services relieve muscle aches and work-related pain. They're a sure fire way to boost employee morale. Relieves stress, increases morale, improves health. Onsite chair massage services do it all.
Onsite Chair Massages Show Staff They're Valued
A good massage relieves sore muscles, melts away tension, and promotes relaxation. It's a perfect treat for stressed-out employees. Chair massages are a popular employee perk. 11% of companies offer employee massage. Companies like Boeing and Eddie Bauer regularly bring certified masseurs on site for employees. Googles' massage program is legendary, available eight hours per day, 5 days a week. They've provided over 100,000 hours of massage annually.
Massages at work may seem like a luxurious thrill for employees, but there are plenty of practical benefits. Here are some good reasons to add Strive chair massage service to a stress management program. Research shows that massage has physical and mental benefits. By providing massage service, companies can:
Reduce absenteeism.

Lower employee stress levels.

Minimize pain – due to work-related conditions like prolonged sitting.
Sitting for prolonged periods at work wreaks havoc on muscles, bones, legs, and the back. Excessive sitting is associated with an increased risk of death. Consider the average full-time American worker puts in 8.5 hours per day. Many spend the majority of that time, sitting at a desk or in meetings. Thus, the implications for employers are clear.
Some experts have deemed excessive sitting to be "the new smoking". This in an effort to help Americans understand the dangers of inactivity. Recent studies show that sitting for long periods of time is linked to a number of health conditions:
obesity
increased blood pressure
elevated blood sugar
higher cholesterol levels
How Corporate Chair Massages Help Employees Distress
There are ways to combat the effects of sitting for too long at work. Strive workplace wellness initiatives, like onsite fitness classes encourage workers to move. Onsite chair massage – part of Strives' Employee Stress Management program – is an effective way to combat negative effects of sitting. It stimulates productivity, reduces stress, and boosts employee happiness. Recent studies show the effectiveness of chair massage programs. It's good for relieving physical effects created by workplace behaviors:
Women who received workplace massage twice weekly, had a decrease in musculoskeletal aches and pains. Their range of motion when performing workplace activities increased.

Another company that offered employees onsite chiropractic services, saw absenteeism cut by nearly half.

When employees received chair massage specifically to relieve pain caused by excessive sitting, both pain threshold and relaxation increased. Muscle tension decreased after four weeks.
Our corporate chair massages are an easy, affordable way to reach a wide number of employees with a stress management option, providing physical and mental benefits. It has added-value of delighting employees, making them feel appreciated, prized, and pampered.
Chair massage services are great for special occasions, like out-of-town conferences or corporate retreats. Schedule chair massages on a recurring basis – weekly, or bi-weekly. Or add Strive massage chair services for a company event. They're great for employee recognition banquets or company holiday parties.
What are the Benefits of Onsite Chair Massage?
Benefits of chair massage at work include better mental health for employees. Just 15 minutes of massage has an impact on stress-related symptoms. When it comes to employee mood and overall well-being, chair massage also:
reduces anxiety
lowers levels of cortisol — a hormone associated with stress
boosts brain function
elevates serotonin and dopamine – can have positive effects on sleep and mood
Who are Strive Onsite Chair Massage Therapists?
We work with an extensive network of professionally-licensed, fully-insured, pre-screened massage therapists across the country. We'll accommodate needs no matter where the business operates.
Strive therapeutic massage specialists are fully-trained in seated massage techniques. They're accustomed to working in corporate and event environments. Be assured, they'll interact with the employees in a friendly, professional manner. This ensures a comfortable atmosphere and relaxing experience.
​How Does Strive Onsite Chair Massage Program Work?
On the day of scheduled onsite chair massage services, our prescreened mobile massage therapists will come to the designated location. They'll arrive early to set up their supplies and equipment. They bring everything needed. Simply provide a space for them. Then, the fun part begins, and employees get to enjoy their massages!
How are Corporate Chair Massage Programs Funded?
They can be fully-funded by the employer. Alternatively, chair massage services are available on an employee-contribution basis.
How Long are Corporate Chair Massages?
Featuring massage chairs at a health fair or special event doesn't require participants to schedule sessions. They simply walk up for a 5-10 minute or 10-15-minute massage, depending upon preference of the business.
When hosting recurring corporate chair massages as an employee perk and tool for stress management, the employer can choose the session time. Pick 10-, 15-, 20-, or 30-minute sessions. Employees sign up online or on a posted sign-up sheet. Sign-ups and coordination are managed by the Strive coordinator assigned to the program.
Onsite chair massage services are available across multiple locations or a single one. A Strive project manager handles administration of the chair massage service. They will take care of:
Hiring trained professionals.

Arranging necessary equipment.

Implementing and managing an online scheduling system.

Setting up the event or program.
Corporate chair massage services can be combined with Strive fitness classes. Mix and match, depending upon any wellness program initiatives. The Strive project manager will keep track of the entire scope of the wellness initiatives. Strive offers support and online administrative tools. We'll ensure our clients are satisfied with their entire program. No matter how extensive a wellness program, the number of locations, or how many components are added, every aspect is handled by Strive, including:
appropriate personnel
program equipment
marketing materials
enrollment/scheduling
program reports and assessments
administration
invoicing
Strive makes wellness easy!