Musculoskeletal Strengthening Helps Employers
keep workforce well by improving flexibility and mobility of employees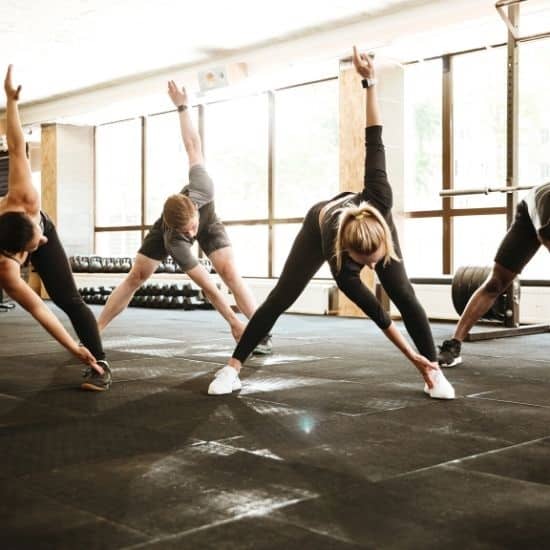 Musculoskeletal Strengthening Helps Employers Keep Workforce Well
Musculoskeletal injuries and illnesses decrease workforce health status and account for more healthcare spending than any other single health condition.
According to the Bureau of Labor Statistics, musculoskeletal injuries significantly contribute to the imbalance between hours paid and hours actually worked, resulting in a significant decrease in workforce productivity.
Strive musculoskeletal strengthening helps employers keep their workforce well. How? By improving flexibility and mobility of employees, reducing pain and disability.
What are musculoskeletal disorders?
Musculoskeletal disorders include pain affecting the nerves, muscles, joints, tendons, bones, or ligaments. Most prevalent are:
lower back pain – most common
joint pain and arthritis
tendonitis or tendon pain
ligament issues
muscle injuries
"tunnel" syndromes – caused by nerve compression
Do your employees suffer from any of these symptoms?
carpal tunnel syndrome
lower back injury
tendonitis
tension neck syndrome
It's a fact. Pain plagues workers across the country. Musculoskeletal disorders caused by workplace activity account for 34% of lost workdays. It accounts for more than 600,000 injuries and illnesses. Musculoskeletal disorders are a leading causes of pain and disability among American workers. In fact–
Musculoskeletal injuries account for one out of every three dollars spent on workers' compensation. This results in employers paying $20 billion annually in musculoskeletal workers compensation claims.

Employers pay an additional $100 billion annually in indirect costs, such as hiring and training new workers.
These disorders can come on quickly – as acute conditions – or can develop and last over time as chronic pain. Chronic pain may appear in one specific part of the body, or it may be widespread. Workplace musculoskeletal disorders are also called:
repetitive motion
strain injuries
overuse syndrome
cumulative trauma disorders
soft tissue
occupational cervicobrachial disorders
Musculoskeletal disorders are associated with the way tasks are performed. Repetitive motions or intense physical work break down muscles and joints over time. This frequently happens for workers doing manual labor, or who must maintain stress on specific parts of their bodies over extended periods. Repeating the same work, day after day, without giving the body time to recover, worsens the condition.
Are you an employer looking to combat work-related musculoskeletal issues?
If so, then you've definitely landed in the right place! Strive Well-Being delivers programs covering every aspect of musculoskeletal strengthening, helping to improve your workforces' flexibility. 
Office workers are prone to musculoskeletal pain caused by repetitive tasks. Carpal tunnel syndrome has increased by 700% over the last ten years. Other factors are:
poor posture
staying in one position for too long
sitting all day at a desk
overuse
Pain from overuse affects 33% of adults. "Workplace risk factors", like overuse and repetition, significantly increase an employee's likelihood of developing musculoskeletal pain.
Are musculoskeletal issues preventable?
Yes. As work-related musculoskeletal issues become more prominent, the medical community has found solutions to reduce worker pain. It's possible to prevent these injuries altogether. These facts give employers incentives to find solutions for workplace repetitive motion injuries. Constant pain affects every aspect of an employee's life. The results include:
depression
anxiety
reduced productivity
overall lower quality of life
Research shows that movement is crucial for preventing and minimizing musculoskeletal pain. Construction workers who did a 10-minute morning warm-up exercise, experienced:
Increased lower back mobility.
Back muscle endurance.
Flexibility of hamstring muscles.
Strengthening of thigh muscles.
Even a brief exercise session is beneficial for workers whose jobs require intense manual labor.
Computer users who performed regular, short-term exercises at their workstations experienced short-term decreases in musculoskeletal discomfort. Office workers with neck and shoulder musculoskeletal pain tried specific resistance training or all-around physical exercise over the course of a year. They all reported a reduction in the duration and intensity of their symptoms. 
To keep muscles flexible and limber, some musculoskeletal-related pain requires more intensive treatment than stretching or moving. This is when physical therapists and certified strength and conditioning specialists can work with employees. They help with:
Rehabilitating injuries.
Decreasing pain.
Learning new techniques to avoid harmful, repetitive motions.
Onsite Musculoskeletal Strengthening Programs
Strives' full range of classes, therapies, and services will help get your employees pain free, and back to being well and productive. Our musculosketal strengthening programming includes:
Athletic training – outsourced to high schools or colleges
Therapeutic yoga – for veterans and soldiers dealing with PTSD
Onsite stretching – to benefit your entire workforce
Looking for more intensive physical therapy options? We provide Certified Strength and Conditioning Specialists, ideal for soldier readiness and rehabilitation.
How do Strive onsite programs work?
Working with Strive, you'll be assigned a personal program coordinator. Your program coordinator will oversee every aspect of your musculoskeletal strengthening program. Our network of prescreened certified therapists, instructors, and providers extends nationwide. We'll implement your initiatives in one location, across the city, state, or nationwide.
We'll handle the instructor and trainer hiring. And we arrange any necessary equipment to support the success of your program. Administrative aspects of your musculoskeletal strengthening program are streamlined with Strive. Everything you need will come directly from Strive Well-Being, including:
Marketing – complete with flyers and materials to get participants excited.
Scheduling and sign up, when applicable.
Program tracking, including regular reports to monitor participation and engagement.
Modifications or adjustments, based on reports or participant feedback.
Invoicing for all program aspects, including hiring, equipment, and management.
Our musculoskeletal strengthening programs help employers and can be combined with other wellness initiatives. Your Strive program coordinator will manage additional services or programs. You'll have one point of contact – and one source of administration – for your entire wellness package.
How easy is that! Strive simplifies wellness.
Set up a conversation to see how Strive Well-Being can make your employee wellness program work for you today!