Certified Strength & Conditioning Specialists
Task-Specific Training Programs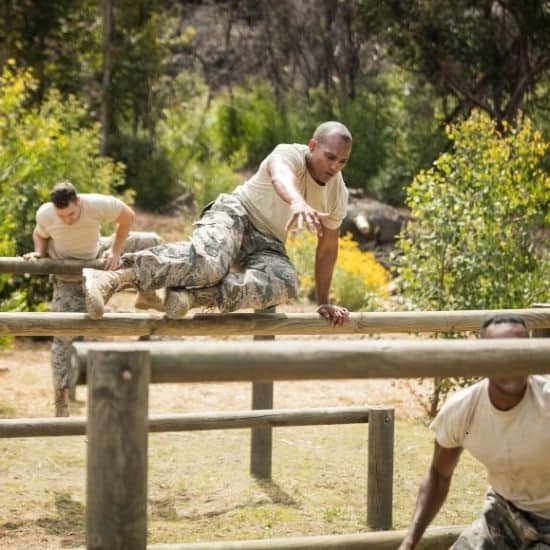 Strive Certified Strength and Conditioning Specialists
American's military service men and women are on the front lines protecting our country. But what happens when they're not physically up to the task? Soldiers today are facing serious challenges in becoming fit for duty, or physically deployable.
Certified Strength and Conditioning Specialists help U.S. Special Forces teams prepare for tactical challenges with task-specific training programs.
They help:
Athletes improve performance and strength
Law enforcement agencies
Military organizations increase fitness or reduce injury
Why Certified Strength and Conditioning Specialists?
The U.S. military struggles with finding recruits physically-capable of being enlisted. There are 100,000 soldiers deemed "non-deployable." Of those, an estimated 10% will be successfully rehabilitated for future deployment. The U.S. Army considers deploy-ability to be their biggest challenge today. This due in part to America's obesity crisis. Military recruits are between ages 17 – 24. Of that population, 27% are too overweight for service. Those who qualify and enlist, often discover they aren't in good enough shape to pass the
Army Physical Fitness Test (APFT)
. Recruits have a high risk of being injured during basic training. Each potential soldier lost due to a basic training injury, costs the
Department of Defense
approximately $31,000. Thus, to help combat this dilemma, the U.S. military is utilizing certified strength and conditioning specialists.
What is a Certified Strength and Conditioning Specialist?
A
Certified Strength and Conditioning Specialist (CSCS)
is a healthcare professional that uses knowledge of anatomy and physiology to improve athletic performance. Certified strength and conditioning specialists are highly trained. Many who pursue a CSCS certification are physical therapists. Typically in the medical and healthcare field, they've expanded their knowledge to better serve patients or athletes.
Who does a CSCS work with?
A CSCS works with a wide range of clients:
Athletes to improve performance and strength
Law enforcement agencies
Military organizations to increase fitness or reduce injuries
U.S. Army divisions have had success working with CSCS's. These programs help recruits minimize training injuries. As a result, their chances of passing the army physical fitness test improve. One study compared participants in a Basic Combat Training (BCT) program, with those in a modified Physical Readiness Training (PRT) program. The PRT had less emphasis on running. It incorporated a wider variety of exercises. And included techniques to reduce injury and improve overall fitness.
Compared to those who completed the BCT program, the PRT group:
Had less risk of overuse injuries
Were more likely to pass the Army Physical Fitness (APT) test the first time
Who are Strive Certified Strength and Conditioning Specialists?
They're fully-qualified, highly-trained Certified Strength and Conditioning Specialists. Strive CSCS team members have bachelor's degrees in a health-and fitness-related field. Strive CSCS's have received designation as Certified Strength and Conditioning Specialists, through the
National Strength and Conditioning Association (NSCA)
. Most are also certified as a Sports Performance Coach or
Collegiate Strength and Conditioning Coach
. Each Strive CSCS maintains current
CPR and AED certifications
. In addition to rigorous education and certification standards, Strive CSCS trainers demonstrate high levels of experience in their field. Each has managed or overseen a strength and conditioning team, and has experience training others in the field.
What does a CSCS do?
By developing ergonomically-designed programs, CSCS professionals prepare U.S. special forces teams for tactical challenges. They create task-specific training programs. And analyze existing military training exercise programs. Then they make adjustments to:
Prevent injury from occurring
Accommodate military personnel who've already been injured
For example, a CSCS examined a wide range of shoulder exercises and identified those likely to result in injury. Then created a training program to avoid shoulder injury from resistance training. These programs facilitate recovery from musculoskeletal disorders caused by overuse. Such as:
Foot injuries from marching
Stress fractures from training
Chronic low back pain from heavy lifting
Rotator cuff injuries and tears
Certified Strength and Conditioning Specialists educate their clients
on nutrition, sleep, supplementation and recovery. And they may work on—
Analyzing posture and biomechanics to identify movement patterns and factors that can lead to injury
Creating and implementing weight training, and conditioning classes to minimize injury and improve fitness
Administering and evaluating initial fitness assessments
Performing therapeutic taping, instrument-assisted soft tissue mobilization, muscle energy or proprioceptive neuromuscular facilitation (PNF) techniques
Educating and guiding personnel on ways to prevent injury, improve stamina and performance
Evaluating the knowledge, skills, and efficacy of brigade and battalion Master Fitness Trainers, appointed Unit Fitness NCO's, exercise leaders, and instructor trainers
Assisting with the development of optimized PRT programs for unit training
Collaborating with trainers and physical therapists, to assist with treatment and prevention of injuries
Developing reconditioning programs with rehab professionals, to efficiently transition injured personnel back into active duty
Does CSCS Help with Soldier Rehabilitation?
Yes. Certified strength and conditioning specialists are instrumental in soldier rehabilitation. The Special Operations Command Tactical Human Optimization, Rapid Rehabilitation and Reconditioning (THOR3) program was adopted by the special operations community. THOR3 laid out specific steps to prepare specials ops troops for physically-demanding action. The focus was on methods to educate, train, and enhance physical development of soldiers.​
In summary, working with a certified strength and conditioning specialist is an optimal way to improve performance and reduce the risk of injury. Your Strive CSCS will become an integral part of your physical education training team. They're expert at designing and implementing strength and conditioning for individual rehabilitation plans.
What Can I Expect Working with Strive?
When you hire a CSCS from Strive, we'll help you incorporate a range of certified strength and conditioning specialists services. Your CSCS can coordinate:
Sport-specific testing sessions
Safe and effective strength training and conditioning programs
Nutrition and injury prevention guidance
Consultations with and referrals to other medical professional
Is Strive Local or Nationwide?
Strive operates nationwide, so you can implement Strive CSCS services at training facilities anywhere in the country. Your assigned project manager will coordinate the details of:
Hiring pre-screened certified strength and conditioning specialists
Minimizing program administration
Simplifying billing with one comprehensive invoice
We make fitness easy!