Mind-Body Fitness
Relieve Stress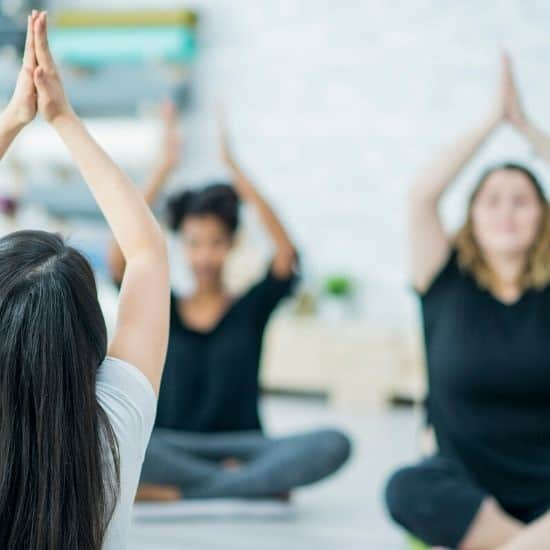 Mind-Body Fitness Relieves Stress
Strive Mind-Body Fitness relieves stress and helps your community center, retirement home, or hospital audience:
Optimize health
Develop strength
Improve balance
Reduce stress
Mind-Body Fitness Relieves Stress
Mind-body fitness is more popular that ever. So many Americans enjoy participating in activities that incorporate physical and mental components for well-being. Over 18 million Americans practice yoga or tai chi, and over 10 million Americans do Pilates.
What is Mind-Body Fitness?
With no single definition of Mind-body fitness, the phrase refers to movement, that includes mental engagement. It could be simply having awareness of your body, as you move. Or it could have a spiritual component, in which you try to achieve a deeper level of consciousness.
Based on the idea that mind and body are connected, and effect one another, mind-body fitness relies on mindful exercise techniques. The desired result is harmony between the mind, body, and spirit.
Practitioners of mind-body fitness approach it with a different frame of mind, than they'd approach high-impact workouts- like spinning, jogging, or cardio dance class. They come to class internally focused, intending to promoting peace of mind, through physical movement. The goal is, to achieve better physical fitness, mental clarity, and spiritual centering. 
Class emphasis is on coordinating breathing with movement, while paying attention to form and alignment. The idea is, that by aligning the body in specific ways, spirit and mind are also brought into alignment, and synchronized.
Why is Mind-Body Fitness Gaining Popularity?
Because mind-body fitness relieves stress, while improving fitness and wellness. If you worry about stress, you are not alone. 33% of Americans, live with extreme stress all of the time. 40% of Americans are kept awake at night by stress. They stress about work, the economy, future situations, personal finances, and more. To reduce the harmful effects of stress, employers and communities are initiating stress reduction programs. They include mindfulness techniques like Strive mind body fitness.
Research shows that mind-body fitness is very effective. One study found that yoga and meditation trigger the "relaxation response," or a state of deep physiological rest. This relaxation response positively impacts:
The immune system
Metabolism
The way your body processes insulin
Strive mind-body fitness programs include:
Yoga
Tai chi
Pilates
Our mind body fitness classes integrate breathing, and simple meditation techniques with:
Physical postures
Balance
Concentration
Visualization
Specific elements of mind-body fitness have practice-oriented benefits.
Yoga:
Has been shown to reduce pain and depression
Can be used to help manage diabetes
Reduces levels of anxiety, tension, and fatigue
Helps improve self-image and self-confidence
Tai chi:
Provides significant improvements in balance and stability
Improves conditions like high blood pressure and cholesterol
Helps with lowering stress and boosting mood
What is the Goal of Mind-Body Fitness Classes?
The goal is helping participants overcome challenges and move toward enlightenment.
Classes feature soothing music during cool-down and stretching segments. This elicits the "relaxation response," invoking associated health benefits:
Slowing breathing rate
Relaxing muscles
Reducing blood pressure
Who are Strive Mind-Body Fitness Instructors?
Strive instructors meet the highest standards of qualification and certification. They have nationally-recognized certifications in their areas of expertise. And have completed a minimum 200-hours of training for classes they teach. Our instructors undergo pre-screening, rigorous background and reference checks. As soon as you choose Strive mind-body fitness services, we'll assign you a personal project coordinator. This coordinator will help create a program customized for your participants and budget.
The Strive coordinator is your sole point of contact. You'll never have to track down the right person to help, or answer a question. Strive's project manager will identify the perfect services for your organization. They'll guide you through the implementation process. Strive will:
Hire fully-credentialed and pre-screened instructors
Coordinate facilities and equipment needed for your classes
Provide flyers, posters, and marketing collateral, announcing your program
Help participants sign up online or with a sign-up sheet
Share and collect electronic liability waivers
Streamline billing and administration for all services
What About Liability Coverage for Onsite Fitness Classes?
Strive protects you with comprehensive liability coverage. Coverage includes workers compensation and a provision of services. That means your organization is wholly indemnified of risk if something goes wrong. We're proud to say we've never had a claim since our founding. This attests to our emphasis on safety across operations.
In addition to mind-body fitness classes, our wellness programming includes:
Stress Management – like Mindfulness Meditation
Musculoskeletal Strengthening – like Onsite Stretching classes
These are great complements to your wellness curriculum. Your designated Strive project manager will help you coordinate any additional classes.
Need Additional Fitness Resources for Your Community Members?
Explore our range of fitness services:
Onsite Fitness Classes
Onsite Personal Training
Health Coaching
Strive operates nationwide. Thus, we can launch your fitness program at a single location and expand later. Or we can launch simultaneously in multiple locations. We'll coordinate with vendors and instructors on your behalf. We'll simplify your program administration.
We keep fitness easy, no matter how complex your program becomes.