Onsite & Virtual Corporate Wellness Programs
Support employee health and well-being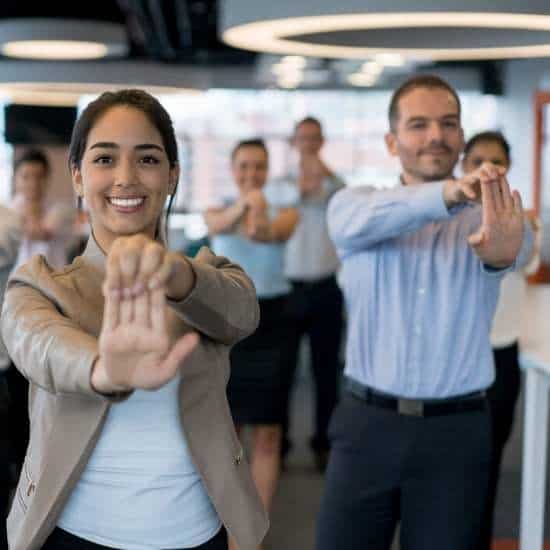 Strive Corporate Wellness Programs
Attract and retain a healthy workforce with a flexible wellness program for both remote and onsite employees.
Both established wellness programs and new initiatives alike can benefit from incorporating Strive's offerings and management. We can deliver a full wellness program or complement an event such as a health fair or open enrollment kickoff.
What Wellness Initiatives Does Strive Support?
What Wellness Services Does Strive Provide?
Our programming can also support behavioral wellness initiatives such as weight loss and smoking cessation. We also offer specialty services such as onsite chair massages and hosting virtual health fairs. Book a discovery call to learn how we can help make your wellness program results-oriented and cost-effective.
Wellness Programs Built for Present and Future Success
Organizations seeking a return on their wellness programs year after year require designing for five factors that predict continual success.
1. Proactive Employee Promotion
Strive provides marketing communications for our clients to distribute or for us to handle on the clients' behalf. Employees will know how to access the wellness program and what offerings are available. Posters, flyers, and email templates are some of the mediums we can create to generate excitement.
2. Designing for Employee Convenience
Onsite and virtual classes are designed for ease of access, so employees only have to show up and have fun. From scheduling to instructors creating positive feedback loops with your employees, we design for end-to-end employee convenience.
3. Support & Engagement from Management
While Strive can't compel your top-level managers and direct supervisors to participate, we can equip you with an easy to use wellness platform and metrics your leadership can digest and share. Focus on convincing your top execs to join in on the wellness fun and we'll supply you with the engagement data your execs need to stay hyped about the program.
4. Strategic Partnerships & Spending
We work with our clients' budgets to maximize the reach of their wellness programs. Companies that have negotiated with their healthcare providers for wellness dollars can put those funds to use on their wellness offerings. Strive is a strategic vendor for most of the large health plans and are able to directly invoice many insurance companies.
5. Ongoing Program Evaluation
Strive clients get the benefit of both an online wellness platform that tracks engagement metrics and a designated account manager to work with you to evaluate the success of your wellness program. We work with you to evaluate the individual offerings to ensure the longevity of the entire wellness program.
How Strive Gets Corporate Wellness Programs Up and Running
We follow a time tested roadmap for launching new wellness programs for our clients that works well for enhancing already running programs.
Administering a needs & interest survey to employees
Collaborating with the client on maximizing wellness offerings
Vetting instructors for the wellness offerings
Coordinating location for programs (onsite & virtual)
Promoting wellness offerings to employees
Hosting sign-ups through the Strive wellness platform
Fulfilling program schedule
Reporting & program assessment
Streamlined Billing
Clients have a Strive account manager as their point of contact to ensure their new wellness initiatives are launched on schedule and any ongoing tailoring.
How Much Do Corporate Wellness Classes Cost?
We believe simple pricing best serves the customer. Instead of separately charging for coordination, our online wellness platform, and everything in between, we offer it all in a single fully-burdened cost per activity.
Clients interested in weekly recurring classes over extended time frames also enjoy discounted rates per class.
Frequently Asked Questions
What Sort of Screening Process Happens with Strive Instructors?
Strive instructors go through a rigorous screening process before they are presented to our clients.
They undergo thorough background checks
Thorough reference checks
Thorough certification checks (nationally recognized)
Meet experience requirements
Screened to motivate, encourage, & engage employees
What if an Instructor Isn't a Good Fit With Our Team?
We will take care of supplying a better match, because of how important it is to have instructors that harmonize with your team.
When we search for a replacement, we aim for a quick and seamless transition that doesn't interrupt the cadence of delivering your classes every week. New and long standing partners can expect the same attention for ensuring their teams can participate in their fitness classes without interruption.
How Does Strive Fitness Programs Handle Liability?
Strive has comprehensive liability insurance coverage that fully-indemnifies our clients of risk. We prioritize safety, which is reflected in our internal safety policies for staff, services, and facility management.