Corporate Wellness Programs
Support employee health and well-being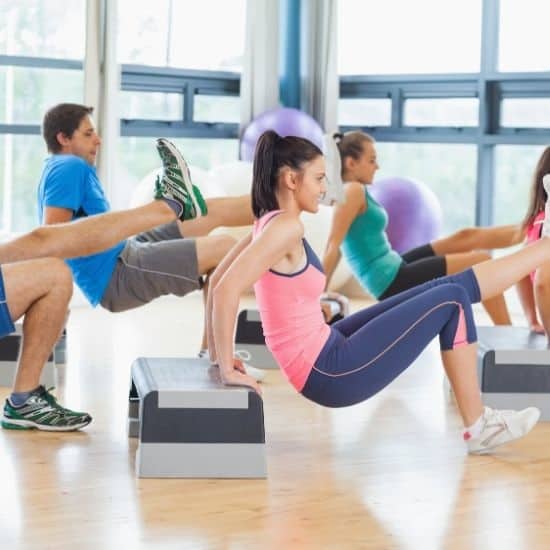 Strive Corporate Wellness Programs
Strive corporate wellness programs engage your employees, improve the health and well-being of your workforce, and lower your employer health care costs. Maybe you're not too familiar with wellness, but have been tasked with developing a wellness program. Or you may be looking for a vendor to provide all of your wellness components.
Not to worry. Either way, the winner is you. Strive makes wellness easy! 
What do Strive Corporate Wellness Programs include?
Strive corporate wellness programs can be narrowly-focused on one aspect of health. Or they may include a combination of elements. Topics include:
Fitness programming
Onsite Group Fitness Classes
Onsite Personal Training
Onsite Nutritionists and Health Coaching
Health programming
Health Screening Events
Health Coaching
Educational Seminars and Webinars
Stress Management programming
Onsite Yoga
Mindfulness Meditation classes
Wellness Programming
Onsite Stretching
Onsite Chair Massage
We can provide a wellness program with all elements. Or we'll provide "à la carte" services. Strategic partnerships are in place for offerings we don't provide in-house. Classes and programs can be offered for employees on a regular basis or for special events. Company health fairs, open enrollment kickoffs, corporate holiday parties, and employee fitness challenges are all reasons for Strive fitness and wellness programming.
Are wellness programs effective?
Yes. Wellness programs help employees improve healthy behaviors and reduce unhealthy habits. Studies show that employees participating in wellness programs see noticeable improvements in range of health measurements, including:
Exercising more often.
Smoking quantity and frequency.
Losing and maintaining weight.
Eating more fruits and vegetables.
Reducing fat intake.
Lowering body weight, cholesterol levels, and blood pressure.
Participating in just one wellness offering is shown to help employees improve health and lower risk for disease. Employees who participated exclusively in a health coaching program were likely to lower any five of the following seven health risks:
Blood pressure
Body weight
Cholesterol levels
Nutrition
Physical Inactivity
Stress
Tobacco Use
When employees went on to participate in additional wellness activities, odds increased that these risks were reduced. One wellness class produces good results, but a full roster of wellness programming produces great results.
The likelihood of developing chronic disease can be reduced by:
Walking at least 30 minutes a day.
Eating nutritionally-balanced meals.
Not smoking.
Maintaining a waist size less than half of their height.
Drinking moderately.
Achieving all five goals can reduce healthcare costs by 33% to 50%. If three out of four Americans made these changes, annual healthcare expenses could be reduced by $600 billion to $1 trillion.
How are corporate wellness programs funded?
Some corporate wellness programs are fully-funded by employers. Others may have employees contribute on a per-session or monthly basis.
These programs have emerged as a response to spiraling healthcare costs, high absentee rates, and reduced productivity related to the poor health of American workers. Obesity alone is associated with missed work, costing over 8.65 billion dollars each year, This accounts for over 9% of all absenteeism costs. Studies have found that chronic diseases affect 117 million Americans. They account for 75% of all healthcare expenses.
Are you thinking about adding a corporate wellness program?
It will improve the health of your workforce and lower your healthcare costs. Strive can help you create an initiative that's specifically tailored to your employees. Our wide variety of wellness programming includes:
stress management classes
fitness classes
yoga classes
personal training
health coaching
and more!
We'll assign you a personal project manager. Your project manager will help craft your wellness program, making it results-oriented and cost-effective.
Workplace wellness programs made simple
Not all workplace wellness programs are the same. Strive Well-Being does wellness right. We'll help you design a wellness program incorporating the key elements for success. Our solutions include:
Over 80 classes and services
Nationwide implementation
Customer service provided by a single point of contact
We'll deliver a turnkey results-oriented wellness initiative for you. Working with Strive, we meet your needs, fit your budget, and simplify the process.
Experts have found that successful employee wellness programs incorporate five common elements. Your Strive representative will ensure your corporate wellness program has the Five Components of a Successful Corporate Wellness Program. We integrate these important elements into a successful wellness program for you. 
Clients Love Strive Well-Being
Over the past 10 years, we've supported virtually every industry sector, including many Fortune 500 companies and government agencies.