Onsite & Virtual Corporate Fitness Programs
Fitness Classes, Workshops, & Coaching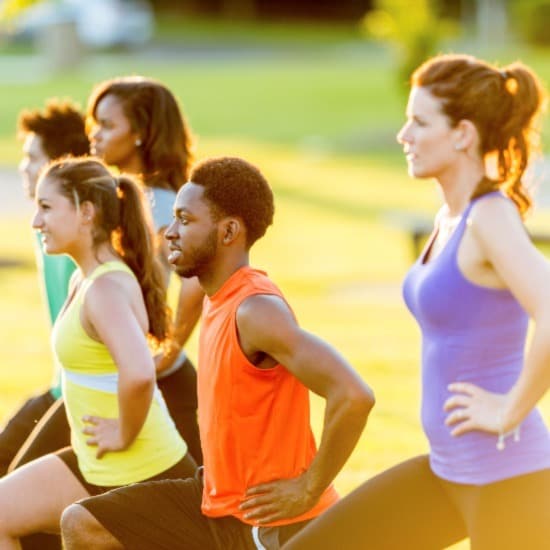 Workplace Fitness Programs
Workplace wellness programs that incorporate fitness classes inspire a culture of wellness, which improves employee recruitment and retention, boosts motivation and productivity, and helps employees create healthier habits for ultimately lower healthcare costs. 
From yoga and Zumba to strength training and tai chi, Strive has a wide offering of onsite and remote fitness classes. Our fitness classes are designed to re-energize employees throughout their workday and to encourage them to form connections as they achieve their wellness goals alongside coworkers.
In addition to promoting physical health, exercise reduces stress hormones and releases mood-boosting endorphins, the benefits of which extend beyond the workplace. As for remote fitness classes, their flexibility allows them to reach participants all over the nation — and even their families, too.
Corporate Fitness Programming & Classes
Strive offers a variety of programming and fitness class options to adapt to your workforce's unique needs and interests.
Corporate Fitness Programming:
Live, instructor-led classes (available onsite & virtually)
Fitness workshops (available onsite & virtually)
Fitness coaching from Certified Fitness Specialists (available onsite & virtually)
Structured fitness challenges
Full Body Fitness
Core Conditioning
HIIT
Tabata
Quick Core
Strength Training: full, lower, & upper body
Cardio Kickboxing
Zumba
Tai Chi
Yoga
Strive Virtual Corporate Fitness Classes
Employees register for virtual fitness classes through Strive's registration platform. Strive fitness instructors go through a robust operating protocol and framework to ensure client employees have a positive experience every class. Virtual fitness classes are optimized for delivery including audio quality, background, and video standards.
Strive Corporate Fitness Programs
Every client is assigned one of Strive's account managers that follows a time-tested roadmap for launching new programs that works just as well for enhancing existing programs.
Administering a needs & interest survey to employees
Collaborating with the client to maximize wellness budget
Vetting instructors for classes & workshops
Coordinating location for onsite offerings
Marketing the program to employees
Hosting sign-ups through the Strive wellness platform
Fulfilling program schedule
Reporting & program assessment
Streamlined billing
Clients have a Strive account manager as their point of contact to ensure their new fitness initiatives are launched on schedule and any ongoing tailoring.
FAQs
How are Strive Instructors Screened?
Strive fitness instructors go through a rigorous screening process before they are presented to our clients:
Background checks
Reference checks
Certification checks (nationally recognized)
Experience requirements
Proven to motivate, encourage, & engage employees
What if an Instructor Isn't a Good Fit for Our Team?
We will take care of supplying a better match, because of how important it is to have instructors that harmonize with your team.
When we search for a replacement, we aim for a quick and seamless transition that doesn't interrupt the cadence of delivering your classes every week. New and long standing partners can expect the same attention for ensuring their teams can participate in their fitness classes without interruption.
How Do Strive Fitness Programs Handle Liability?
Strive has comprehensive liability insurance coverage that fully-indemnifies our clients of risk. We prioritize safety, which is reflected in our internal safety policies for staff, services, and facility management.