Health Education Seminars and Webinars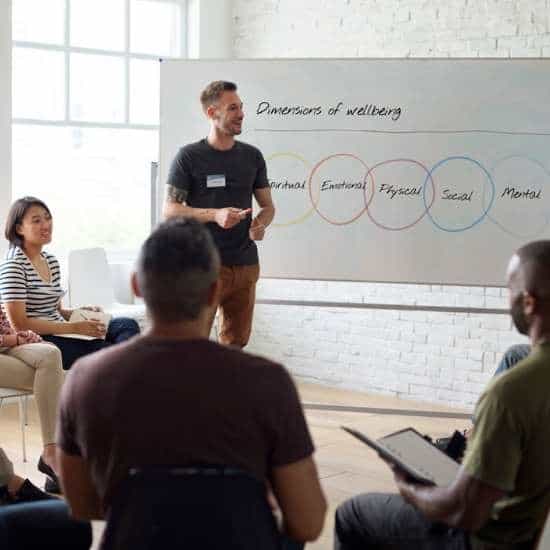 Health Education Seminars and Webinars
Health education seminars and webinars are effective for educating your workforce. They help your employees, residents or military personnel, understand health and wellness topics.
Results can lead to:  
Improved employee health and well-being
Reduced healthcare costs
Strive Health Education Seminars and Webinars
You're you an employer offering employee wellness programming. Great! You offer employee healthcare coverage, provide an onsite fitness center, and include Onsite Stretching classes to help employees manage musculoskeletal pain. However, your efforts are wasted if your employees don't realize what's available. They need to understand why it's essential. Strive Well-Being health education seminars and webinars improve employee health literacy. Improved health literacy results in better employee wellness. Onsite educational seminars teach employees to improve their health and utilize healthcare resources.
Start improving your employee health literacy levels with educational seminars and webinars. Help your employees, residents, or military personnel understand health and wellness topics like:
reducing pain
improving fitness
eating healthfully
losing weight
recharging mentally
and more!
What is "health literacy"?
Health literacy is a person's ability to access vital health information, process and understand it. Ultimately they apply that information to making informed, positive health decisions. It's so vital that the U.S. Department of Health and Human Services has published a Health Literacy Quick Guide Fact Sheet.
Health literacy includes:
Understanding preventative services covered by your health plan.

Knowing how – and why – to eat a balanced diet.

Learning about ways to improve sleep.

Being aware of work/life balance.

Discerning how to get enough exercise.

Realizing the importance of managing stress.
Only 12% of Americans have "proficient" health literacy skills. This includes understanding a table, or figuring out how much of their healthcare premiums they're responsible for. The vast majority of Americans – 53% – only have intermediate skills. These are skills required to read a prescription bottle and figure out when to take a medication. Sadly, 21% just have basic skills required to read a pamphlet.
A large percentage of the population struggles with medical issues. This could be improved by better health literacy. For instance, many Americans:
Do not understand medical terms.

Don't know how to measure risks to make positive health care choices.

Are trying to manage complicated diseases and don't understand self-care.

Feel overwhelmed by conflicting information online.

Get confused by piles of paperwork from their health insurers.
Poor health literacy leads to poor health​
Research shows poor health literacy leads to poor health. When you don't understand healthcare available, which healthy behaviors to adopt, or how to take care of yourself,  your health pays the price. People with poor health literacy are likely to:
Experience chronic medical conditions — and have less understanding of how to manage them.
Use emergency services and make preventable hospital visits, resulting in high healthcare costs.
Skip annual exams, flu shots, and preventative care.
Visit the doctor only after an illness or issue has progressed, resulting in a condition that's advanced.
Believe they're less healthy than others, and feel embarrassed about their lack of health knowledge.
Feel intimidated about seeking medical help.
The annual cost of low health literacy is estimated to be between $106 billion and $238 billion. A critical step in improving health literacy is providing clear information about health, wellness, and medical care. Better health communication improves wellness. It increases quality of healthcare. And reduces costs.
What are topics for health literacy?
Popular Strive Well-Being health education seminars and webinars are:
 ·        SAVERS: The Miracle Morning Routine
·         How to incorporate fitness and healthy lifestyle into a busy work week
·         How to incorporate Green Smoothies into a busy working lifestyle
·         Daily micro-break stretches at your desk
·         Healthy Nutrition
·         Healthy Fitness
·         Healthy Lifestyle Hacks
·         Workout at your Desk
·         Daily Stretching Routine
·         Improving Sleep for a more energetic life
·         Coping With Heat
·         Secrets to getting into Great Shape For Summer
·         Step Up Your Health to Live Longer
·         Re-energizing Your Mind and Body
·         8 Time Saving Tips to Get Fit and Trim
·         Three Secrets to Great Abs
·         Avoiding Back Pain
·         Staying On Track During Crunch Season
·         15 Creative Ways to Reduce Stress
·         Positive Commitments to Fitness
·         Cheap Eats
·         Integrating Mind Body Techniques for Wellness & Stress Reduction
·         Six Weeks to Optimum Health
·         Lifelong Strategies for Healthy Living
·         Keep it Moving
·         Creating Your Wellness Vision
How do Strive health education seminars and webinars work?
Strive Health Education Seminars and Webinars can be:
Incorporated into an existing lunch and learn program.
Included as part of a health fair or wellness event.
Introduced as a standalone employee health education program.
Combine Strive Well-Being educational seminars and webinars to create a comprehensive health education plan. We'll tailor the program to suit your organizations' needs. Include as few or as many courses as you'd like. Strive will implement your onsite program in a single location or nationwide.
Strive Well-Being health education workshops are available as webinars. Webinars are ideal if your employees are spread across locations, work a variety of shifts, or telecommute. Employees can view the webinar, at their convenience. They're a great resource for you digital health and wellness library.
What topics are available for Strive health education seminars and webinars?
We cover a wide range of health topics. Dozens of topics provide practical, understandable, and useful advice that participants can start implementing immediately.Topics on overall wellness advice include "Healthy Lifestyle Hacks" and "Improving Sleep for a More Energetic Life". "Daily Micro-break Stretches at your Desk" and "Three Secrets to Great Abs" are popular fitness topics. We offer on-site cooking demonstrations too! This helps your employees improve nutrition while learning cooking skills.
For comprehensive workplace wellness, combine a Strive health education seminar with: 
Onsite fitness classes
Health coaching
Onsite personal training
How do I set up health education seminars or webinars?
Strive will assign a program manager to coordinate your initiative. For educational workshops and any other elements, Strive will handle:
Marketing materials (flyers, posters, email templates) to generate employee awareness and excitement.

Scheduling and employee enrollment.

Finding a pre-screened, qualified subject matter expert, to deliver your wellness workshop.

Necessary equipment for cooking demonstrations, or fitness presentations.

Invoicing for all program aspects, including hiring, equipment, and management.
Strive makes wellness easy! And that makes YOU look GOOD!