Fitness Center Design & Development Nationwide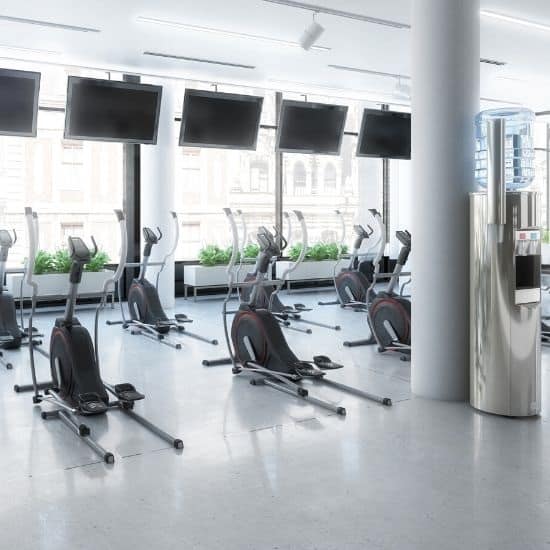 Fitness Center Design and Development Nationwide
Strive provides a seamless process to help organizations create their own onsite fitness centers. Our fitness center design and development helps organizations from the drawing board to opening day:
Conceptual design
Construction
Code compliance and adherence
Sourcing machines
We guide our clients through determining size, space, and scope where wellness committees and HR teams get bogged down.
Strive Fitness Center Design Process
We start by getting to know the core values, employees, and environment of our client. This allows us to offer the best solutions in facility design and development. Whether a client is setting up fitness centers in one location or multiple sites nationwide, we can do it all.
As the project evolves, our experts provide comprehensive design and layout plans using the latest in 3-D technology. We'll assess construction or space improvement plans as needed. Flooring, electrical, and gym requirements are accomplished in accordance with approved layouts. Accurate benchmarking and innovative recommendations are delivered in a timely manner. These are leveraged from data, research, and results from industry trends.
Applying our expertise, we'll help our clients determine appropriate space allocations. Areas for cardio, strength, and functional training equipment will be mapped out. Along with space plans for holistic services, group exercise, and multi-purpose wellness. Of course, there are layouts provided for locker rooms and amenities.
Clients receive a proposal for optimum combinations of equipment and types of flooring. Audio/visual systems, number of lockers, HVAC components, and electrical outlets are accounted for as well.
Our staff of industry experts has established fitness equipment partnerships. Over the years, we've cultivated a network of equipment manufacturers and service providers. They've been analyzed and vetted for quality, value, and reliability. As a result, we're able to offer the best recommendations. We'll design cardio, strength and free weight systems based on budget, space, and anticipated use.
Strive ensures appropriate warranties and scheduled maintenance. This is included in the procurement process. Prior to opening the doors of an onsite fitness center or gym, there needs to be operational procedures and policies in place. This ensures programs run smoothly and adhere to safety standards. We have expertise to help create these guidelines. Once the employee gym or wellness center is designed, we'll handle the practical details to get it equipped, and up and running. We make sure our clients are fully prepared when their employee gym opens.
Strive Fitness Center Management  
We provide fitness consulting services and fitness center management services to help:
Create employee wellness initiative
Provide pre-screened, qualified staffing
Keep the fitness center running with the latest trends in fitness
Deliver wellness programming for employees
Strive has a successful track record of managing fitness centers. References are available upon request.