Fitness Center Design & Development Nationwide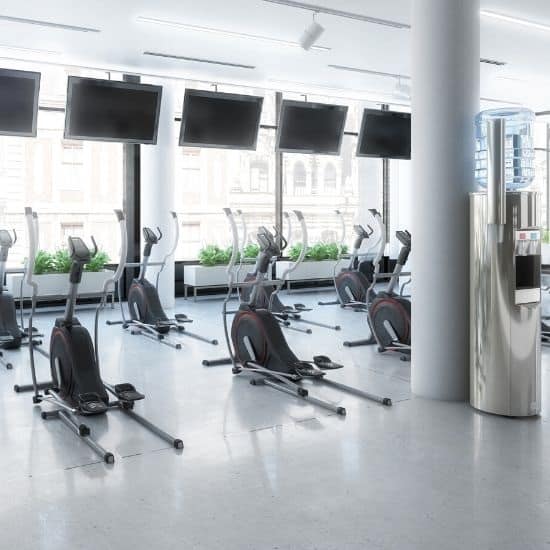 Fitness Center Design 
Strive provides a seamless process to help organizations create their own onsite fitness centers. Our fitness center design and development helps organizations from the drawing board to opening day:
Conceptual design
Construction
Code compliance and adherence
Sourcing machines
We guide our clients through determining size, space, and scope where wellness committees and HR teams get bogged down.
Strive Fitness Center Design & Development Process
By getting to know the core values, population, and environment of our client, we offer the best solutions for facility design and development. Our experts provide comprehensive 3-D plans for setting up fitness centers in one location or multiple sites nationwide. We also assess construction and space improvement plans, and can accurately benchmark and recommend the latest industry trends in a timely manner.
Our plans map out areas for cardio, strength, and functional training equipment, along with space plans for holistic services, group exercise, and multi-purpose wellness. Strive can also manage locker rooms and amenities. We help our clients determine the right combination of equipment, flooring, audio/visual systems, number of lockers, HVAC components, and electrical outlets. With our expertise and experience, clients can have peace of mind that they're getting the best solution for their fitness center design and development needs.
Our staff of industry experts has established fitness equipment partnerships. Over the years, we've cultivated a network of equipment manufacturers and service providers. They've been analyzed and vetted for quality, value, and reliability. As a result, we're able to offer the best recommendations. We'll design cardio, strength, and free weight systems based on budget, space, and anticipated use.
Strive ensures appropriate warranties and scheduled maintenance. This is included in the procurement process. Prior to opening the doors of an onsite fitness center or gym, there needs to be operational procedures and policies in place. This ensures programs run smoothly and adhere to safety standards. We have expertise to help create these guidelines. Once the employee gym or wellness center is designed, we'll handle the practical details to get it equipped, and up and running. We make sure our clients are fully prepared when their employee gym opens.
Strive Fitness Center Consulting & Management
We provide fitness consulting services and fitness center management services to help:
Create employee wellness initiative
Provide pre-screened, qualified staffing
Keep the fitness center running with the latest trends in fitness
Deliver wellness programming for employees
Strive has a successful track record of managing fitness centers. References are available upon request.