Fitness & Wellness Management and Staffing
Professional Fitness & Wellness Services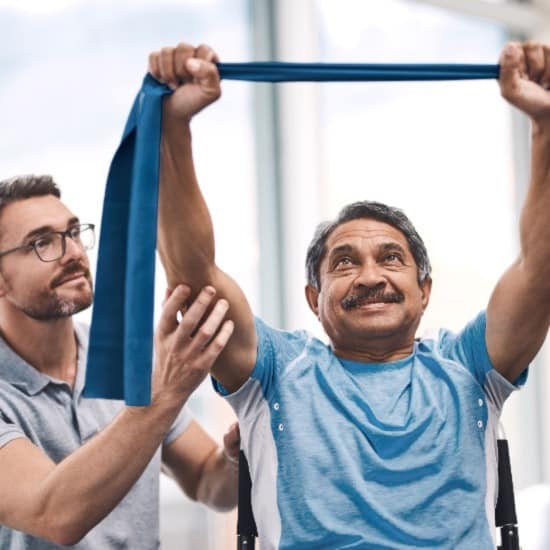 Strive Health, Fitness, & Wellness Management
Whether you need to staff and manage an onsite fitness center, coordinate a wellness program, or find instructors for fitness and wellness initiatives, Strive is all inclusive for staffing well-being programs. Rather than taking on the administrative burden of sourcing various vendors, our pricing is all-encompassing to include the fitness center or wellness services, our technology platform, and an account manager.
Our wellness experts collaborate with clients to tailor the fitness center or program management and deliver it in a turnkey fashion.
Strive also provides specialized staff such as Certified Strength & Conditioning Specialists (popular with military and law enforcement) and Physical Therapists.
Fitness Center Management Services
Strive's fitness center management services are available at any point in the project, from design and development to staffing and management. Our services include:
Operations
Fitness facility design & development
Daily operations, policies, & procedures
Recruiting:

Fitness Directors
Program Directors
Operation Managers
Fitness Specialists
Athletic Trainers
Massage Therapists
Group Fitness Instructors
Strive fitness center staff carry out responsibilities including but not limited to:
Providing oversight and management of the facility
Processing employee/participation enrollment and liability waivers
Ensuring members are exercising safely
Accommodating participant limitations, special needs, or injuries
Conducting gym orientations and fitness assessments
Giving personal training services
Offering health and wellness information and education
Coordinating the aerobics fitness class schedule
Integrating the fitness center into other well-being initiatives
Collecting and incorporating participant feedback for program improvements
Putting together fun engagement programs and challenges for members
Facility services include:
Equipment management
Preventative maintenance
Safety and risk management
Towel management service
Janitorial service
Strive Fitness Staff
Our full-time on-site gym staffing is provided by credentialed fitness professionals. A team typically consists of a fitness director and several specialists, depending on the size and scope of the location.
Strive employees hired to work in fitness centers have degrees in Exercise Science, Kinesiology, or another health and fitness-related field. They've completed a nationally-recognized Personal Training Certification such as:
American College of Sports Medicine (ACSM)
American Council on Exercise (ACE)
National Academy of Sports Medicine (NASM)
International Sports Sciences Association (ISSA)
National Strength and Conditioning Association (NSCA)
Athletics and Fitness Association of America (AFAA)
Plus, all Strive Well-Being fitness instructors are CPR and BLS-certified. They're experienced managing or working in corporate fitness center environments.
Strive Wellness Staff
Wellness programs require detailed administration and consistent coordination and communication to be successful. Strive streamlines processes and absorbs all aspects of administration from staffing and screening to internal marketing, engagement data collection/reporting, and liability coverage.
Strive can staff wellness programs including but not limited to:
FAQs
How are Strive Fitness & Wellness Coordinators Screened?
Strive instructors go through a thorough screening process before they are presented to our clients including:
Background checks
Reference checks
Certification checks (nationally recognized)
Experience requirements
Screened to motivate, encourage, & engage employees
What if a Coordinator, Manager, or Instructor Isn't a Good Fit With Our Team?
We'll restaff a better match. It's important to have a nutritionist that harmonizes with your team. We aim for a quick and seamless transition that doesn't interrupt the cadence of your scheduled classes.
How Does Strive Handle Liability?
Strive has comprehensive liability insurance coverage that fully-indemnifies our clients of risk. We prioritize safety, which is reflected in our internal safety policies for staff, services, and facility management.