Wellness Staffing & Management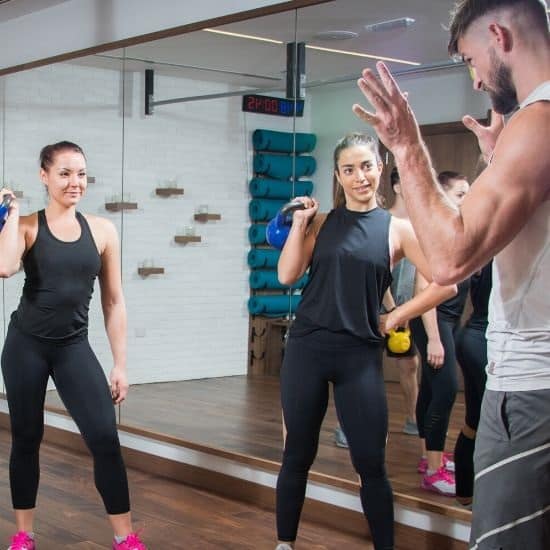 Wellness Staffing & Management
Workplace fitness and wellness programs sponsored or co-funded by employers, engage employees in activities to improve health and well-being. These programs include various components, based on needs of the employer's workforce:
Exercise elements – group fitness classes and personal training
Nutritional elements – onsite nutritionists and health coaching
Preventative elements – health screening events and educational seminars or webinars
Wellness programs may incorporate stress management resources, like musculoskeletal strengthening (MSK) classes. Fitness programs provide activities and information that educate and engage employees, to achieve better health and well-being. They yield impressive benefits by:
Strive services are great for special events. Daily onsite stretching classes are great for corporate retreats or labor-intensive careers. Onsite chair massages do wonders at professional conferences.
Why Outsource Fitness and Wellness Program Management?
Wellness programs require a lot of detailed administration. Small companies don't have enough HR staff to manage hiring, equipment sourcing, coordination, and the billing involved. On the other hand, large companies with multiple locations, may need to use multiple vendors, coordinating excessive details. This can be overwhelming to even a dedicated wellness team. Our nationwide fitness center management services are all-encompassing.
Fitness Center Management Services
Operational Services
Fitness facility design and development
Daily operations, policies, and procedures
Recruiting

Fitness Directors
Program Directors
Operation Managers
Fitness Specialists
Athletic Trainers
Massage Therapists
Group Fitness Instructors
Facility Services
Equipment Management
Preventative Maintenance
Safety and risk management
Towel management service
Janitorial service
Programming Services
Fitness assessments
Gym orientations
Pre-participation screenings
Exercise programs
Personal training
Group fitness classes
Health coaching
Incentive programs
Health and wellness fairs
Health screening events
Engagement Services
Innovative technology platforms
Marketing and communications
Health education seminars and webinars
Newsletters
Reporting Services
Participant satisfaction analysis and reporting
Market demand and interest surveys
How Strive Handles Liability Risks
Strive's comprehensive liability coverage indemnifies the organization of risk. It includes workers compensation insurance and a provision of services, so the organization is protected in any circumstance.
Outsourcing fitness center management to Strive eliminates the headaches that come with fitness center operations. We make fitness easy.
Employee wellness programs put employers at risk, too. That's when wellness becomes a liability. If a company hires instructors for classes offered to employees, the company has to verify each instructor carries certification and liability coverage.
Here are four ways a company increases its liability:
Purchase or lease equipment for an employee gym
Offer periodic health screenings
Provide educational seminars
Organize nutritional advice
Strive gives our clients peace of mind, when it comes to liability. Our liability insurance coverage is comprehensive, and includes workers compensation. Strives' provision of services leaves enterprises fully-indemnified of risk. And we distribute and manage electronic liability waiver forms.
We pre-screens all instructors for a client. This includes checking certifications and references. It also covers running background checks. We assure the high caliber instructors are a match with our clients. With Strive operations nationwide, we can manage fitness and wellness programs everywhere a company does business.
Strive has experience working with:
Hospitals
Government agencies
Communities
Private employers
No matter what industry or what the organization needs, Strive takes the stress out of managing employee wellness programs.
When outsourcing a fitness and wellness program management to Strive, we'll work with the organization on:
Creating internal program structure
Developing a committee or "wellness champion" strategy
Determining who takes responsibility for program decisions
Strive ensures a rewarding program for employees. It minimizes headaches for HR staff and wellness committees. Perks of Strives fitness and wellness program management:
Reduce paperwork
Simplify interactions with a single point of contact
Streamline service providers nationwide
Maximize Wellness Dollars, or other funding
Directly bill the organization's insurance company, or centralize invoicing
Provide employees with qualified, professional instructors
Ensure safety of equipment and facilities
Program flexibility, based on popularity and success
Comprehensive liability coverage protecting the company
We provide our clients with a program manager as point of contact. A Strive representative will coordinate:
Staffing, pre-screening, background checks, hiring
Equipment coordination
Location, facilities
Employee marketing, flyers, posters
Enrollment, online scheduling, sign-up sheets
Reporting and program assessment
Billing (directly invoicing organization's healthcare provider when possible)
All program administration
Clients benefit from streamlined billing. As we've achieved strategic vendor status with numerous large health insurance providers. Since we're vetted by these companies, we can directly invoice for qualified client wellness services.
Who are Strive Fitness Center Staff?
Our full-time on-site gym staffing is provided by credentialed fitness professionals. A team will usually consist of a fitness director and several specialists, depending on the size and scope of the location.
Strive employees hired to work in fitness centers have degrees in Exercise Science, Kinesiology, or another health and fitness related field. They've completed a nationally-recognized Personal Training Certification such as:
American College of Sports Medicine (ACSM)
American Council on Exercise (ACE)
National Academy of Sports Medicine (NASM)
International Sports Sciences Association (ISSA)
National Strength and Conditioning Association (NSCA)
Athletics and Fitness Association of America (AFAA)
Plus, all Strive Well-Being fitness instructors are CPR and BLS certified. They have experience managing or working in corporate fitness center environments.
What Functions Do Strive Fitness and Management Staff Provide?
Strive outsourced fitness staff performs a wide range of responsibilities at an employee gym:
Providing oversight and management of the facility
Processing employee/participation enrollment and liability waivers
Ensuring members are exercising safely
Accommodating participant limitations, special needs, or injuries
Conducting gym orientations and fitness assessments
Giving personal training services
Offering health and wellness information and education
Coordinating the aerobics fitness class schedule
Integrating the fitness center into other well-being initiatives
Collecting and incorporating participant feedback for program improvements
Putting together fun engagement programs and challenges for members
Working onsite, all fitness staff wear Strive or client-approved uniforms and name tags. This means the employees can easily identify their onsite fitness professionals.
What's it Like Working with Strive?
Strive assigns a dedicated account executive to work with each organization. They'll help determine which fitness center management services will best benefit the facility and wellness initiatives. Our staff will work in conjunction with the internal wellness committee, facilities or HR team. If an organization works with food services providers or other vendors, Strive will coordinate with them.
We ensure a well-coordinated, seamless program, providing maximum benefits to the organization's population. The Strive program coordinator is the single point of contact. They'll promptly address any issues with staffing, scheduling, machines, or operations.
Frequently Asked Questions
What Sort of Screening Process Happens with Strive Instructors?
Strive instructors go through a rigorous screening process before they are presented to our clients.
They undergo thorough background checks
Thorough reference checks
Thorough certification checks (nationally recognized)
Meet experience requirements
Screened to motivate, encourage, & engage employees
What if an Instructor Isn't a Good Fit With Our Team?
We will take care of supplying a better match, because of how important it is to have instructors that harmonize with your team.
When we search for a replacement, we aim for a quick and seamless transition that doesn't interrupt the cadence of delivering your classes every week. New and long standing partners can expect the same attention for ensuring their teams can participate in their fitness classes without interruption.
How Does Strive Fitness Programs Handle Liability?
Strive has comprehensive liability insurance coverage that fully-indemnifies our clients of risk. We prioritize safety, which is reflected in our internal safety policies for staff, services, and facility management.