Onsite & Virtual Nutrition Programs for the Workplace
Generate health, happiness, and wellness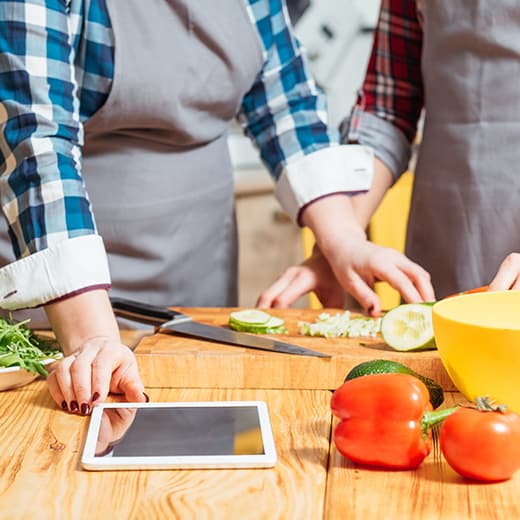 Workplace Nutrition Programs
Help employees learn how easy it is to make healthier food choices and the benefits of a balanced diet. Our network of certified nutritionists and healthy living instructors makes putting a program together electing as easy as picking out topics from a menu.
Strive takes the complexity out of coordinating by centralizing sign-ups, liability waivers, and scheduling on our platform.
Corporate Nutrition Program Formats
Employees can enjoy learning and engaging in nutrition:
Live interactive healthy cooking demos (available virtually)
Nutrition workshops (available onsite & virtually)
Health coaching from certified specialists & nutritionists (available onsite & virtually)
Structured nutrition challenges
Virtual Cooking Demos
Our classes are live and done from the comforts of home. Employees can invite their families to participate, which makes our virtual cooking demos a great way for organizations to enhance their company culture. 
There are three reasons why organizations are looking into virtual cooking demos:
 planning is much easier than planning an onsite event
 cost is significantly lower
 higher employee turnout and engagement
Our hosts are certified health experts. Employees get the benefit of learning how to cook healthy meals and how the ingredients promote better health. Our nutritionists also bring the fun by engaging employees and having them join in.
Strive makes signing up for an organization's cooking demo easy. Our platform streamlines the signup process so employees can login and register without cumbersome paperwork and reminders. After registering, the employees are given a calendar invite to add the cooking demo to their preferred calendar. Our team sends out friendly reminders as well as the ingredient list, so employees have plenty of time to prepare for the festivities.
Help Employees Eat Right with Onsite & Virtual Nutritionists
Strive nutritionists help employees create lifestyles that meet overall health, nutrition, and well-being needs. They're a source of encouragement, education, and motivations for achieving personal wellness goals.
Workplace nutritionists provide a selection of services for employers:
Provide education on nutritional guidelines and recommendations to employees

Offer recommendations for improving company-offered food in the cafeteria and vending machines

Create personalized nutrition programs for employees
Studies show that employee nutrition programs are associated with:
Reducing the risk for serious health conditions
Lowering employer health costs
How Strive Gets Corporate Nutrition Programs Up and Running
Every client is assigned one of Strive's account managers that follows a time tested roadmap for launching new programs that works just as well for enhancing already running programs.
Administering a needs & interest survey to employees
Collaborating with the client to maximize wellness budget
Vetting instructors for classes & workshops
Coordinating location for onsite offerings
Marketing the program to employees
Hosting sign-ups through the Strive wellness platform
Fulfilling program schedule
Reporting & program assessment
Streamlined billing
The Strive account manager ensures the client's new initiatives are launched on schedule and the account managers are available for any ongoing tailoring to the program.
How Much Do Corporate Nutrition Classes Cost?
We believe simple pricing best serves the customer. Instead of separately charging for coordination, our online wellness platform, and everything in between, we offer it all in a single fully-burdened cost per unit.
Clients interested in weekly recurring classes over extended time frames also enjoy discounted rates per class.
Frequently Asked Questions
What Sort of Screening Process Happens with Strive Nutritionists?
Strive instructors go through a rigorous screening process before they are presented to our clients.
They undergo thorough background checks
Thorough reference checks
Thorough certification checks (nationally recognized)
Meet experience requirements
Screened to motivate, encourage, & engage employees 
What if a Nutritionist Isn't a Good Fit With the Team?
We will take care of supplying a better match, because of how important it is to have a nutritionist that harmonizes with your team.
When we search for a replacement, we aim for a quick and seamless transition that doesn't interrupt the cadence of delivering your classes every week. New and long standing partners can expect the same attention for ensuring their teams can participate in their fitness classes without interruption.
How Does Strive Nutrition Programs Handle Liability?
Strive has comprehensive liability insurance coverage that fully-indemnifies our clients of risk. We prioritize safety, which is reflected in our internal safety policies for staff, services, and facility management.