How Strive Serves Brokers & Consultants
Strive Well-Being is a strategic vendor for most of the large national insurance brokers and population health management consultants in the U.S. Our wellness programming is custom designed to support and complement group health management strategies for their clients
Development of client wellness plans
Creation of annual calendars
Designing program strategies
Customizing solutions
Our team of seasoned professionals can take care of client wellness services on behalf of brokers and consultants. Strives' experts in the health and wellness field have notable past performance on large projects. We've implemented many ongoing insurance brokers wellness programs.
What Credentials Do Strive Wellness Consultants Have?
Strive is a Wellness Council of America (WELCOA) partner and an Art and Science of Health Promotion (ASHP) partner. Strive Well-Being consultants are credentialed as:
Certified Corporate Wellness Specialists (CCWS)
Faculty of the Wellness Council of America (WELCOA)
Strive's Process from Wellness Consulting to Implementation Delivery
That's where Strive workplace wellness consulting can help. We'll help design an employee wellness initiative. It will be developed according to recommended standards. And it will take into account the specific needs of the workforce. We'll work within the budget and timeline to help establish a long-term sustainable wellness program that will.
Enhance organization's health-positive culture
Complement any existing employee well-being offerings
We start by partnering with the internal wellness department or point person. Together, we'll develop a plan and identify success metrics. Actively participating in wellness committee meetings, we'll assist with developing the wellness program. Then, we'll make specific recommendations.
Working with Strive starts by scheduling an initial consultation with key stakeholders in the organization. This includes HR representatives, executive teams, risk management, and wellness committees. The result is the initial draft of a strategic plan, including cost estimates, for full development.
We'll identify goals for the wellness initiative
Gather data through employee surveys and consultation
Use the results to align corporate objectives with employee expectations and preferences
Once the client has reviewed our recommendations and which elements to incorporate, we can help put the plan into action. Or, if the client decides to implement the program on their own, we can provide consulting to assess the wellness program's success or recommend improvements.
Upon approval from key stakeholders, we'll finalize that strategic plan. This serves as a framework for implementation of the wellness program. We'll assign a project manager to the client's wellness program. Strives' project managers are the point of contact for the entire wellness initiative.
The Strive project manager will get the wellness program implemented and keep it running efficiently, including:
Hiring certified instructors or staff for programming
Arranging necessary equipment or supplies
Preparing marketing materials and flyers to get employees excited
Enrolling or signing up employees for classes, screenings, or events
Distributing and maintaining employee liability waivers
Providing comprehensive liability coverage with workers compensation to indemnify the organization
Assessing programs and reporting on engagement and results
Making adjustments to programming or scheduling to accommodate an organizations' needs
Billing – directly invoicing the organization's healthcare provider, when possible
Streamlining admin to prevent staff from becoming buried in paperwork from multiple vendors
We allow the program to evolve, as the company needs change. The process incorporates feedback mechanisms. Regular reporting and data analysis, help assess how the wellness services are performing. We can make adjustments, or add new classes, at any time.
The result? An outcomes- and evidence-based wellness program.
We're a Shortlister verified wellness company!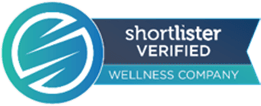 Wellness Services for Broker & Consultant Clients