Workplace Wellness Consulting Made Easy
Fund Fitness & Wellness Programs with Wellness Dollars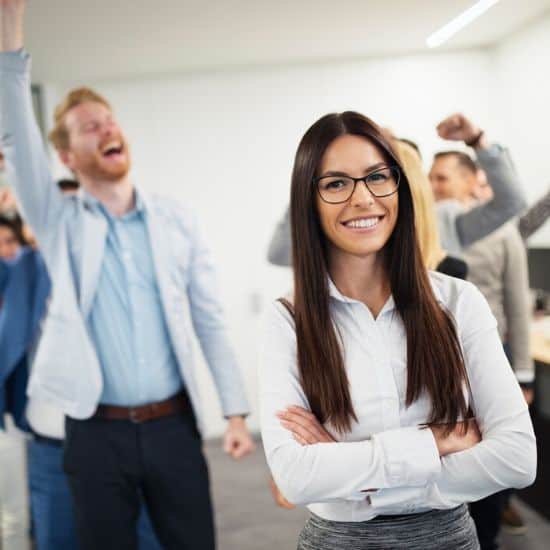 Workplace Wellness Consulting Made Easy
From launching brand new programs to supplementing existing ones, Strive has years of experience designing and managing employee wellness programs.
How Strive Approaches Helping Clients Run Successful Wellness Programs
Organizations seeking a return on their wellness programs year after year require designing for five factors that predict continual success.
Proactive Employee Promotion
Strive provides marketing communications for our clients to distribute or for us to handle on the clients' behalf. Employees will know how to access the wellness program and what offerings are available. Posters, flyers, and email templates are some of the mediums we can create to generate excitement.
Designing for Employee Convenience
Onsite and virtual classes are designed for ease of access, so employees only have to show up and have fun. From scheduling to instructors creating positive feedback loops with employees, we design for end-to-end employee convenience.
Support & Engagement from Management
While Strive can't compel top-level managers and direct supervisors to participate, we can equip our clients with an easy to use wellness platform and metrics leadership can digest and share. Focus on convincing top execs to join in on the wellness fun and we'll supply the engagement data execs need to stay hyped about the program.
Strategic Partnerships & Spending
We work with our clients' budgets to maximize the reach of their wellness programs. Companies that have negotiated with their healthcare providers for wellness dollars can put those funds to use on their wellness offerings. Strive is a strategic vendor for most of the large health plans and are able to directly invoice many insurance companies.
Ongoing Program Evaluation
Strive clients get the benefit of both an online wellness platform that tracks engagement metrics and a designated account manager to work with to evaluate the success of the wellness program. We will work together to evaluate the individual offerings to ensure the longevity of the entire wellness program. Our goal is to affect real health change through our clients' employer-sponsored wellness programs by:
Developing evidence-based programming that appeal to employees
Engineering our technology for employee convenience to access and use
Apply best practices for health improvement and disease management
Navigate legal and regulatory issues and adhere to health care laws
Meet health insurance provider requirements
Work within a defined budget or financing options
What Credentials Do Strive Wellness Consultants Have?
Strive certified wellness consultants, have the designations of:
Certified Corporate Wellness Specialists (CCWS)
Faculty Wellness Council of America (WELCOA)
Strive's Process from Wellness Consulting to Implementation Delivery
We'll help design an employee wellness initiative developed according to recommended standards. And it will take into account the specific needs of the workforce. We'll work within the budget and timeline to help establish a long-term sustainable wellness program that will:
Enhance organization's health-positive culture
Complement any existing employee well-being offerings
We start by partnering with the internal wellness department or point-person. Together, we'll develop a plan and identify success metrics. Actively participating in wellness committee meetings, we'll assist with developing the wellness program. Then, we'll make specific recommendations.
Working with Strive starts by scheduling an initial consultation with key stakeholders in the organization. This includes HR representatives, executive teams, risk management, and wellness committees. The result is the initial draft of a strategic plan, including cost estimates, for full development.
We'll identify goals for the wellness initiative
Gather data through employee surveys and consultation
Use the results to align corporate objectives with employee expectations and preferences
Once the client has reviewed our recommendations and which elements to incorporate, we can help put the plan into action. Or, if the client decides to implement the program on their own, we can provide consulting to assess the wellness program's success or recommend improvements.
Upon approval from key stakeholders, we'll finalize that strategic plan. This serves as a framework for implementation of the wellness program. We'll assign a project manager to the client's wellness program. Strives' project managers are the point of contact for the entire wellness initiative.
The Strive project manager will get the wellness program implemented and keep it running efficiently, including:
Hiring certified instructors or staff for programming
Arranging necessary equipment or supplies
Preparing marketing materials and flyers to get employees excited
Enrolling or signing up employees for classes, screenings, or events
Distributing and maintaining employee liability waivers
Providing comprehensive liability coverage with workers compensation to indemnify the organization
Assessing programs and reporting on engagement and results
Making adjustments to programming or scheduling to accommodate an organizations' needs
Billing – directly invoicing the organization's healthcare provider, when possible
Streamlining admin to prevent staff from becoming buried in paperwork from multiple vendors
We allow the program to evolve, as the company needs change. The process incorporates feedback mechanisms. Regular reporting and data analysis, help assess how the wellness services are performing. We can make adjustments or add new classes at any time.
The result? An outcomes and evidence-based wellness program.
Wellness Program Assessment & Reporting
Strive wellness program assessment and reporting provides employers with a formal evaluation process to calculate wellness program effectiveness and provide recommendations for improvements. We help measure program results like:
Exercising more often
Losing weight
Eating more fruits and vegetables
Reducing cholesterol
Lowering blood pressure
How Does Strive Wellness Program Assessment Work?
First, we document baseline data when the wellness program begins. Then we provide routine reports, detailing participation and engagement. Based on that data, we deliver our program recommendations. If an onsite class is under-performing, clients will know to cancel it. When classes are popular, clients can add more sessions, right away.
How Strive Evaluates Effectiveness of Wellness Initiatives
Strive offers data reporting, to help clients validate effectiveness of wellness initiatives. Here's an example of how we helped a client. A local municipality was awarded a Centers for Disease Control and Prevention (CDC) grant for developing a sustainable workplace wellness program. They established the program, and needed to prove its success. Enter Strive Well-Being. We provided:
Screenings
Onsite classes
Educational workshops
We generate real-time reports. These reports track rigorous statistical analysis on:
Biometric parametric improvements
Overall program engagement
Our assessment reports allow the city to validate it's program sustainability. This demonstrates success to the Centers for Disease Control and Prevention (CDC).
What About Funding for Workplace Wellness Consulting Services?
We've earned strategic vendor status from large health insurance providers. This means we're an approved workplace wellness vendor. Therefore, we can directly bill these insurance companies for wellness services. This may include workplace wellness consulting – and wellness programming.
We'll help utilize wellness dollars or other medical spending or financing options. This is a great way to pay for Strive's workplace wellness consulting. Apply wellness dollars towards funding the entire fitness and wellness program deployed by Strive.