Military Athletic Training Services
Prevent Injuries & Identify Unsafe Conditions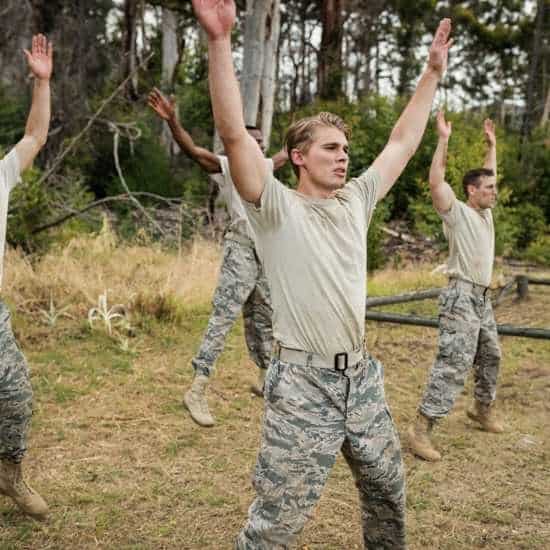 Military Athletic Training Services Nationwide
Strive provides American Medical Association (AMA) Athletic Training Services for the U.S. Military. Our team works hard to keep military recruits in optimal shape and we specialize in injury prevention.
Athletic trainers working with soldiers don't just diagnosis and treat injuries after they happen. They take steps to prevent those injuries from ever happening in the first place. This includes creating sport-specific conditioning and strengthening programs to build muscle and endurance. Trainers also impart nutritional advice and weight management strategies to optimize health and safety.
American Medical Association Military Athletic Training Services
Military recruits, typically between ages 17 – 24 sustain an alarming rate of injury. The U.S. Army reports that one of four male recruits and one of two female recruits are injured at least once, during Basic Combat Training. Experts agree that one of the most effective ways to prevent injuries is to provide proper training.
Soldiers commonly suffer from concussions while preparing for deployment or combat. In fact, 85% of concussions among military personnel happen during training. Strive American Medical Association Athletic Training gives soldiers the training they need.
Is an Athletic Trainer the Same as a Fitness Trainer at a Gym?
No. An athletic trainer is very different from a fitness trainer or personal trainer. Athletic trainers are health care professionals with degrees in athletic training. And 70% of athletic trainers have masters degrees in the field.
Athletic trainers assess environmental conditions, like excessive heat, that could become dangerous during physical activity. If injury does occur, athletic trainers are qualified to provide immediate assessment and treatment onsite. Taking into account individual circumstances, they'll determine the best injury management protocol. They're trained and ready to establish comprehensive rehabilitation. Athletic Training creates programs to:
Prevent injuries
Identify unsafe conditions
Provide emergency care immediately after injury occurs
Athletics trainers are associated with athletes. However, they work in various settings. They work in rehabilitation centers, helping patients recover from surgery. Strive AMA athletic trainers work at Department of Defense and government agencies. They teach soldiers and law enforcement to prevent on-the-job injuries.
Does the Military Use Athletic Trainers?
Yes. The military hires tactical athletic trainers with advanced skills to:
Provide injury-vulnerability assessments for recruits
Create military-specific conditioning and rehabilitation programs
Who are Strive Athletic Trainers?
Strive athletic trainers are a nationwide network of pre-screened, fully-credentialed athletic trainers. We're prepared to provide qualified personnel in multiple locations.
Athletic trainers take their responsibilities very seriously. In fact, the Athletic Training Manifesto is viewable here from the National Athletic Trainers' Association website.
What Responsibilities do Athletic Training Services Include?
You can rely on your Strive athletic trainer to:
Attend all training, events, and practices in professional attire
Bring necessary medical supplies (first aid kit, crutches, braces, etc.) to all events
Be prepared to assist in the event of injury or medical emergency
Provide basic first aid and taping
Create rehabilitation programs
Follow up to reassess injuries as needed
Assist with gait training, crutch fitting, orthotics, or other equipment
Maintain medical records
Design and implement home exercise programs
Answers questions and offer education about injuries
Inventory supplies and make purchasing requests
How do Strive Athletic Training Services Work?
Your Strive project coordinator will handle every aspect of your athletic training program. Starting with coordinating the right staff and necessary equipment. Whether you require standalone athletic training, or additional services, your Strive project manager will coordinate each component. A complimentary program could be Strive MSK or Aerobics Classes.
Bottom line is, working with Strive means you'll have one point of contact, at one company. Strive reduces your time spent on administration and billing. Strive simplifies wellness for you.
What About Liability Issues?
Strive simplifies the liability process with comprehensive liability coverage and a provision of services. Thus, your organization is fully-indemnified of risk.