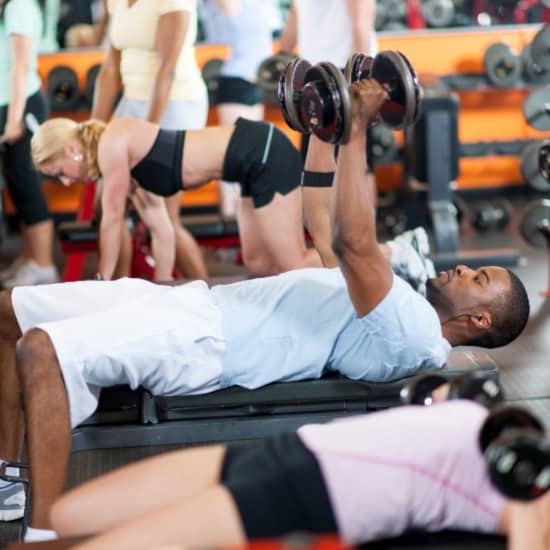 Fitness Center Management & Staffing
Onsite workplace fitness centers are an incredible way to promote work-life balance. Employees experience benefits like stress relief, positive morale, heightened immune systems, and increased productivity without having to factor in travel time and other priorities before and after work. Corporate fitness centers have proven to be a valuable investment for employers building happier, healthier workforces. 
Strive's turnkey fitness center management includes hiring staff, designing the facility and programming, maintaining the facility and equipment, and all daily operations. With over 15 years of experience nationwide, our roots in the physical fitness industry inform how we bring your fitness initiatives to life.
Strive's onsite fitness center management is optimized to relieve your organization of excessive paperwork, reduce risk of liability, and keep your fitness center in consistently optimal conditions.
Managing a Fitness Center with Strive
Strive's all-encompassing approach allows your organization to focus on advancing broader wellness initiatives while our team ensures the fitness center is maximized for employee benefit. Our services extend to:
Fitness Center Management Services
• Hiring of all management and support staff
• Turnkey staff and financial management
• Daily operations, policies, and procedures
Facility Services
• Equipment management
• Preventative maintenance
• Safety and risk management
• Towel service
• Janitorial service
Programming Services
• Fitness assessments
• Gym orientations
• Pre-participation screenings
• Exercise programs
• Personal training
• Group fitness classes
• Health coaching
• Incentive programs
• Health and wellness fairs
• Health screening events
Engagement Services
• Innovative technology platforms
• Marketing and communications
• Health education seminars and webinars
• Newsletters
Reporting Services
• Participant satisfaction analysis and reporting
• Market demand and interest surveys
Strive Fitness Center Management Staff
Fitness center management staff assume responsibilities like:
• Oversight and management of the facility
• Enrollment, participation, and liability waivers
• Enforcing safety measures
• Accommodating participant limitations, special needs, or injuries
• Gym orientations and fitness assessments
• Personal training services
• Health and wellness information and education
• Coordinating the aerobics fitness class schedule
• Integrating the fitness center into other well-being initiatives
• Collecting and incorporating participant feedback for program improvements
• Fun engagement programs and challenges for members
Working onsite, all fitness staff wear Strive or client-approved uniforms and name tags so employees using the gym can easily identify their fitness professionals.
FAQs
What Liabilities Might I Run Into?
In an environment with heavy equipment and lots of activity, injuries can happen. Strive hires pre-screened, certified instructors and utilizes reliable equipment to combat this — but it's never entirely unavoidable.
That's why Strive has comprehensive liability insurance coverage that fully indemnifies our clients of risk. Safety is a priority and is reflected in our internal policies for staff, services, and facility management.
Are Strive's Fitness Center Staff Qualified?
Our full-time, on-site gym staffing is provided by credentialed fitness professionals. A fitness center team typically consists of a fitness director and several specialists, depending on location size and scope of work.
Strive staff working in our clients' fitness centers have degrees in Exercise Science, Kinesiology, or another health and fitness related field, and they've completed a nationally-recognized Personal Training Certification such as:
Plus, all Strive Well-Being fitness instructors are CPR and BLS certified and have experience managing or working in corporate fitness center environments.