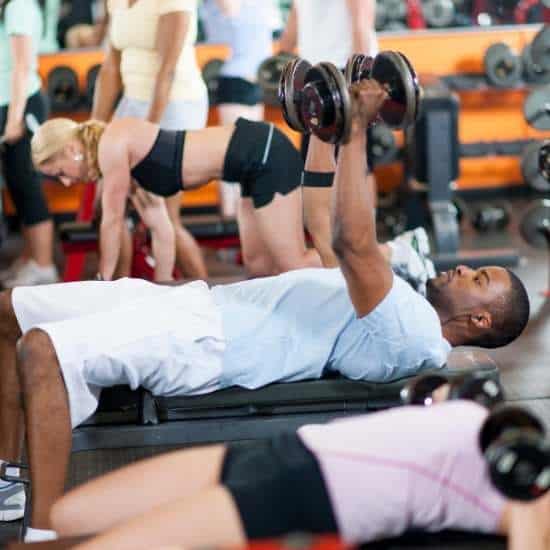 Fitness Center Staffing & Management
Strive started out in fitness center management and staffing over a decade ago. Our roots in the physical fitness industry have allowed us to cultivate many key partnerships. We help you make sense of your onsite fitness center management, staffing and design needs. Strive offers professional fitness center management nationwide, to help you succeed with your fitness initiative. Outsourcing your fitness center management or gym staffing to Strive will:
Minimize paperwork
Reduce risk
Keep your fitness center running at optimum levels
Provide maximum benefits to your community
Here's What Outsourcing a Fitness Center with Strive Looks Like
Strive fitness center management lets you focus on the big picture. How your onsite gym is benefiting the community. Our nationwide fitness center management services are all encompassing. We provide turnkey management, of all day-to-day fitness center operations:
Fitness Center Management Services
Operational Services
Hiring of all management and support staff
Turnkey staff and financial management
Daily operations, policies, and procedures
Facility Services
Equipment Management
Preventative Maintenance
Safety and risk management
Towel management service
Janitorial service
Programming Services
Fitness assessments
Gym orientations
Pre-participation screenings
Exercise programs
Personal training
Group fitness classes
Health coaching
Incentive programs
Health and wellness fairs
Health screening events
Engagement Services
Innovative technology platforms
Marketing and communications
Health education seminars and webinars
Newsletters
Reporting Services
Participant satisfaction analysis and reporting
Market demand and interest surveys
What are liabilities of running an onsite fitness center?
Employee gyms are a tremendous liability. Fitness club members drop weights, trip over or fall off machines, and get injured in exercise classes. They damage machines with incorrect use. There are significant concerns about how participants use onsite gym facilities. More than 464,000 injuries occur each year, related to exercise and fitness equipment. 52% of injuries are related to free weights, and 36% are related to fitness classes.
Hiring pre-screened, certified instructors and finding safe, and reliable equipment is just the beginning. Strive has comprehensive liability insurance coverage that fully-indemnifies our clients of risk. We prioritize safety, which is reflected in our internal safety policies for staff, services, and facility management.
Who are Strive fitness center staff?
Our full-time on-site gym staffing is provided by credentialed fitness professionals. A team for a fitness center typically consists of a fitness director and several specialists, depending on the size of a location and scope of work.
Strive staff working in our clients' fitness centers have degrees in Exercise Science, Kinesiology, or another health and fitness related field. They've completed a nationally-recognized Personal Training Certification such as:
Plus, all Strive Well-Being fitness instructors are CPR and BLS certified. They have experience managing or working in corporate fitness center environments.
What functions do Strive fitness and management staff provide?
Strive outsourced fitness staff performs a wide range of responsibilities at an employee gym:
Providing oversight and management of the facility.
Processing employee/participation enrollment and liability waivers.
Ensuring members are exercising safely.
Accommodating participant limitations, special needs, or injuries.
Conducting gym orientations and fitness assessments.
Giving personal training services.
Offering health and wellness information and education.
Coordinating the aerobics fitness class schedule.
Integrating the fitness center into other well-being initiatives.
Collecting and incorporating participant feedback for program improvements.
Putting together fun engagement programs and challenges for members.
Working onsite, all fitness staff wear Strive or client-approved uniforms and name tags so gym goers can easily identify their onsite fitness professionals.