Tai Chi for Balance
Reduce Risk of Falling from 56% to 31%, in Ages 70+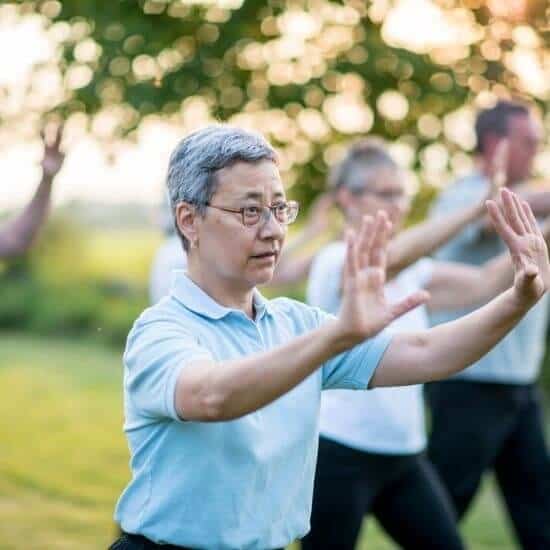 Tai Chi for Balance
Tai Chi for Balance can help save a life. It may be surprising, but falling is the primary cause of death or injury for older Americans. Even more surprising; a fear of falling predicts the likelihood that someone will experience a fall. 
To prevent both, many older Americans are turning to Tai Chi, to improve strength and flexibility.
Tai Chi for Balance Provides Benefits to Participants
This ancient martial art not only offers meditative benefits. It has proven to reduce fear of falling, and occurrence of falls. Community Tai Chi for balance and wellness programming is optimal for:
Residential living facilities
Community centers
Senior living complexes
A gentle, low impact practice, Tai Chi is ideal for older, sedentary, or injured participants. Class members perform movements at their own pace. There is low risk of injury. Impact on muscles and joints is minimal. Practicing Tai Chi for balance emphasizes:
Muscle strengthening
Flexibility
Range of motion
Reflexes
Tai Chi combines meditation, focus on breathing, and "chi." In tai chi philosophy, chi is the area just below your belly button, where the body's energy is stored. The practice cultivates inner peace and calm.
What is Tai Chi?
Tai Chi is a Chinese martial art that's thousands of years old. There are a wide range of styles. The practice generally involves moving slowly and deliberately through a series of continuous motions.
What is Needed to Practice Tai Chi for Balance?
Not much space or equipment is required. It can be practiced individually or in a group. Nearly anyone can do Tai Chi, anytime or anywhere. It's non-competitive and inclusive of all fitness levels and capabilities.
What are the Benefits of Tai Chi?
There are many advantages of practicing Tai Chi for balance on a regular, ongoing basis. One set of studies involving Parkinson's patients, found Tai Chi provided greater improvement in balance and stability, than resistance training and stretching. Participants were likely to continue with it, after the study was over.
It's designed to increase strength, and improve muscle flexibility. It increases body awareness and alertness of your surroundings. Tai Chi develops balance with movements that involve shifting your weight. In some cases, one leg is elevated, coordinating with upper body poses, to create a counterbalance. These improvements in balance and spatial awareness increase feelings of stability – that feeling of being "sure on your feet."
Does Tai Chi Help Prevent Falls?
Yes. Research has shown that tai chi is very effective at reducing the likelihood an older person will fall. One study found that just four weeks of Tai Chi, resulted in significant improvements in balance. Another that involved participants in their 60s and 70s found after six and twelve weeks, Tai Chi had a dramatic effect on:
Improved balance
Flexibility
Muscle strength
Endurance
These benefits of Tai Chi have a protective effect on fall-risk in seniors. Not only does Tai Chi for balance result in physical improvements that reduce the risk of falling. It also reduces the fear of falling, which affects quality of life for elderly Americans. We can help you determine what's right for your participants and facility. You'll be designated a personal project coordinator. They'll discuss your needs and guide you through the process.
How can Tai Chi Benefit my Community?
There are many advantages of a community Tai Chi for balance and wellness program. Practicing Tai Chi for balance on a regular, ongoing basis is very beneficial. Strive can help you create a Tai Chi for balance program, to help access the benefits for your community. Tai Chi was found to help improve certain conditions, reduce the risk for disease, and —
Help lower blood pressure and anxiety levels
Reduce cholesterol levels
Have positive effects on type 2 diabetes
Develop upper and lower body strength
Lower stress and boost mood
Improve pain from fibromyalgia, osteoarthritis, rheumatoid arthritis, and other conditions
Improve sleep quality, thinking skills, speed of motor functions, and attention
Who are Strive Tai Chi for Balance Instructors?
Strive Tai Chi instructors are certified, and members of the American Tai Chi and Qigong Association (ATCQA). Each instructor is required to have 200 hours of class instruction, and must provide three reference letters from Tai Chi instructors, students, or trainers. Strive Tai Chi for balance classes include eight Tai Chi forms. These teach students to align posture, shift weight, and coordinate movements. Your community Tai Chi for balance and wellness program features a Master Trainer. Your Tai Chi Master Trainer will assess instructors, offer professional development, and ensure each trainer is fully-qualified and fully-capable of teaching your community of older adults.
How do I Set Up a Community Tai Chi for Balance Program?
Streamlining the experience, your Strive Project Manager will hire certified Tai Chi instructors selected based upon your participants' needs. They'll work with your staff on location, to coordinate class schedules. No matter how many classes you offer, Strives' Project Manager will be your single point of contact for the entire initiative.
The classes can be adjusted to accommodate the needs of participants with injuries or physical limitations. Class length is typically 60 minutes. They're offered two or three times per week, on an ongoing year-round basis.
Depending upon the needs of your program, Strive will enroll or sign up participants. We'll hand out, collect, and manage liability waivers. Implement community Tai Chi for balance and Wellness Programs at one location, at locations across the country. Working with Strive, you'll have access to a nationwide network of certified staff, managers, and vendors.
Strive classes are great combined with other evidence-based community health programs:
Healthy Living Workshops
Diabetes Prevention Programs
Art Therapy
What about Marketing and Administration of the Program?
Strive will simplify the process, taking care of:
Marketing
Administration
Billing
We'll provide one invoice for all components of your initiative.
What about Liability of a Tai Chi Program?
Choosing Tai Chi for balance from Strive gives you comprehensive liability coverage. Strive Well-Being covers all onsite services provided. This includes workers compensation coverage and a provision of services. Your organization is fully indemnified of risk.
Strive makes wellness easy!