Onsite Group Fitness Classes for the Workplace
Generate health, happiness and wellness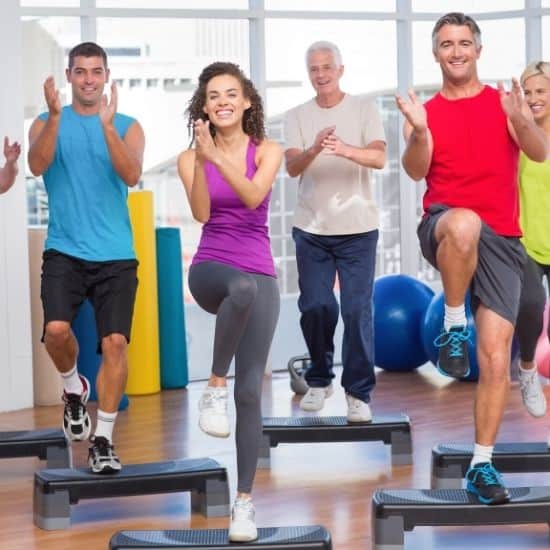 Onsite Group Fitness Classes for the Workplace
Onsite group fitness classes for workplace wellness, health, and happiness are popular! It's no secret that Americans aren't moving enough. It's been claimed that, "Sitting is the new smoking." And we still have an obesity crisis.
Our onsite group fitness classes provide a solution for your workplace! Speak with us today about setting up an onsite group fitness program.
Why set up onsite group fitness classes for the workplace?
The sedentary American work style negatively impacts workers' health. And increases healthcare costs. In 2017, employers paid nearly $5,500 per worker and over $13,000 per family in health insurance premiums. Strive's onsite group fitness classes are a great way to support employee health and well-being.
Proactive steps help reduce healthcare expenditures. Workplace fitness classes make it easier for employees to meet federal activity guidelines, as outlined by Department of Health and Human Services. 
There are many choices to consider! We'll help you make the best choice of on-site group fitness for your audience. Considering your objectives, we'll help you put together a complete fitness program.
What are recommended exercise goals?
The Office of Disease Prevention and Health Promotion, states that healthy adults should meet exercise goals, to reap substantial health benefits.
Recommended weekly exercise goals are:
2.5 hours of moderate aerobic activity – tennis or brisk walking.

1.25 hours of vigorous aerobic activity – swimming or jogging.

A combination of moderate and vigorous aerobic activity that equals overall recommendations (i.e. 1 hour moderate/1 hour vigorous).

2 + days of moderate to high-intensity strengthening with weights or resistance bands.
Aerobic activity should be done in minimum increments of 10-minutes and practiced throughout the week. For additional health benefits, the Office of Disease Prevention and Health Promotion recommends increasing weekly exercise to:
5 hours of moderate aerobic activity (tennis or brisk walking).

2.5 hours of vigorous aerobic activity (swimming or jogging).
Currently, only half of Americans meet minimum activity guidelines for aerobic activity. Just 22% of us meet combined aerobic and strength training recommendations.
Does exercise impact health care costs?
Yes. Research shows that exercise has a direct impact on health care costs. One study found middle-aged workers who participated in regular physical activity lowered healthcare costs by an average of $483 annually – or 7% – over two years. Results were particularly pronounced for workers who were obese, smoked, or had existing health problems. A New York Times article placed the value of exercise at $2,500 a year per individual. The estimate was based on a study by the Journal of the American Heart Association. Heart disease is the leading cause of death in the US, killing 610,000 people each year. It costs over $300 billion in healthcare and reduced productivity.
Exercise is proven to prevent heart disease and lower treatment costs. A study found that patients with heart disease:
Saved an annual average of $2,500 on healthcare by meeting moderate-to-vigorous weekly exercise recommendations. 

Those without cardiovascular disease, reduced healthcare expenses by exercising according to recommended guidelines.
Do employers offer onsite group fitness classes?
Yes. About 70% of U.S. employers offer workplace fitness programs. Benefits of onsite fitness classes:
Employees are more active
Absenteeism is lowered
Healthcare spending is reduced
Turnover rates are minimized
Popular workplace fitness and wellness programs include:
Stress Management

Onsite Yoga Classes

Health Screening Events

Onsite Physical Training
What do employees like most about workplace wellness initiatives?
Health screenings (27%)
Fitness classes (23%)
What are benefits of employer sponsored fitness classes?
Employer-sponsored fitness classes have a wide range of benefits. They're —
conveniently-located
promoting employee bonding and team building
helping employees reduce pain
managing stress
improving overall physical health
Group fitness classes offered at work can be part of a corporate fitness challenge. Some companies offer incentive cash and prizes, to employees meeting health or fitness-related goals. Employer incentives encourage participating in group fitness and wellness programming. Strive Well-Being onsite group fitness classes for the workplace are designed to help employees:
Improve cardiovascular health

Boost physical endurance

Generate muscle strength

Cultivate flexibility
How can I start a workplace fitness program?
We'll work with you to develop a wellness program that's appealing and responsive to your workforce. Based on employee responses, we'll set up appropriate classes and scheduling. Our group fitness classes accommodate participants of all levels. Classes can be modified to meet individual needs. We'll do all of this, making you the hero! 
How are Strive onsite group fitness classes managed?
Strive will designate a project manager to get your onsite fitness classes up and running. Start by adding a few of our most popular classes, or mix and match based on employee interest. Then we'll help you determine the most engaging class schedule. We do this by conducting an electronic survey. The survey will ask your employees which classes they're excited about, and which classes meet their needs.
Who are the instructors for Strive workplace group fitness classes?
Strive Well-Being instructors are fully-credentialed. They've gone thorough background, reference, and certification checks. They meet minimum experience requirements. You can be assured Strive instructors know how to motivate and encourage your employees. Be assured that Strive instructors will provide safe and effective workouts. We'll hire the instructors directly for your onsite fitness program.
Choose from fun and exciting onsite group fitness classes for your workplace.
Body Blast Upper
Upper body training class, designed for all fitness levels. This workout targets the back, shoulders, biceps, and triceps. Benefits are improved posture and ergonomics.
Body Blast Lower
Lower body training class, beneficial for all fitness levels. The workout targets the quads, hamstrings, and calves. Benefits are sculpting a strong, lean, lower body.
Body Sculpt
This is a total body workout. It incorporates high-repetition and low-weight strength training, with cardio interval bursts. This results in blasting calories, toning, and sculpting muscles.
Cardio Kickboxing
An explosive class for all fitness levels. Class includes kickboxing techniques for an intense cardio workout. Results are improved aerobic fitness, strength, agility, and focus.
Core Conditioning
This class boosts daily energy, engagement, and focus. It works the core and back muscles, using resistance bands and stability balls. Results are improved posture and balance.
Fast-Strong Fit
This interval strength and cardio routine helps all fitness levels. Participants track their strength and fitness progress week by week. A simple scoring system keeps participants motivated and engaged.
Fitness Express
A quick, effective 30-minute class for all fitness levels. It blends cardio, strength training, and core exercises. Makes it easy to get fit during a lunch break!
FUN Bootcamp Classes
A popular high-tempo, circuit-based workout Led by a "drill instructor." Results: Even beginners can improve cardio, endurance, flexibility, and strength.
Functional Fitness
Our most popular class caters to all fitness levels. Participants get fit using weights, bands, and balls. Results are improved energy, endurance, cardiovascular strength, and flexibility.
Group Running
Segmented by level and led by an instructor, running groups can be added to team-building or training for an organized race. The results are enhanced strength and endurance.
High-Intensity Interval Training (HIIT)
A class for moderate fitness levels. Quick bursts of intense exercise are followed by short active recovery moves. The result is increased heart rate; burning more fat in less time.
Low Impact Aerobics
Certified instructors guide beginners through dance moves like Zumba, salsa, hip-hop, and more. Benefits are a fun and unique low-impact workout.
Martial Arts
All fitness levels can learn to use martial arts techniques that build self-defense skills. Classes are engaging both physically and mentally. Benefits are enhanced overall physical fitness.
Mat Pilates
Pilates is stimulating, challenging, and effective for all fitness levels. Pilates moves and equipment are used in this core-based workout. Results improved balance, flexibility, and strength.
Spin Cycle Classes
Strive provides bikes and certified instructors for these fun classes. All levels actively burn a ton of calories. Benefits are engaged muscles, and cardiovascular system challenges.
Step Aerobics
Choreographed step exercises, that are great for beginners and all levels. Benefits are improved cardiovascular endurance and overall body strength.
Strive Beats
"Music is life, that's why our hearts have beats!"
This class invites you to move together to the beat of music. No dance experience is required. It's about letting go, having fun, and getting the beat of the heart pumping to fun music as we move and have a dance party together!
Strive Strength
"Hustle for that Muscle"
The focus here is on building strength from the inside out. Each work out concentrates on building strength in different muscle groups. For example, one day may focus on upper body, another may focus on lower body. Core work will always be incorporated.
Strive Stretch
"Release the issues that lie in our tissue."
Students will slowly warm up the joints and muscles with fluid, movement-based stretching. The class is great for lengthening muscles, preventing injury and encouraging relaxation.
Strive Stretch and Breath
"Stress cannot live in the body wherever there is breath."
This class combines our STRIVE Stretch class with intentional breath awareness practices. Awareness of breath can help cultivate present-moment awareness, attention, and mindfulness.
Strive Sweat
"No goal was ever met without a little sweat."
Participants are challenged to get active and fit with an interval strength and cardio routine so fun it flies by. This interval-style workout consists of cardio circuits where you will be guaranteed a full body sweaty work-out that challenges the body and mind. The work out helps build endurance.
Strive Sweat and Strength
"You are powerful beyond measure. You are stronger than you think."
Challenge yourself with an athletic-based exercise routine. It includes cardio, strength, and core training. It's offered through a variety of formats. Each work out will be something new and exciting!
Tabata Training
One of the hottest trends in high-intensity, no-equipment workouts. This interval class alternates between full-effort moves and rest. The results are enhanced cardio endurance for all levels.
Total Conditioning
A challenge for all fitness levels. This athletic-based exercise routine uses a variety of formats and equipment. Benefits include aerobic, strength, and core training.
TRX Circuit Training
An overall circuit training class, featuring a TRX suspension/body weight station. Benefits include building strength and endurance, while improving flexibility and balance.
Walking Group
Instructor-led walking classes for all fitness levels. Incorporates pre- and post-walk stretching, and a mapped walking path. Results in a positive impact on teambuilding, culture, and stress.
Water Aerobics Classes
All fitness levels and those with injury benefit from fun, low-impact pool exercises. Benefits are improved joint and spine flexibility, overall strengthening. (Onsite pool required.)
Zumba Classes
Wildly-popular and widely-requested, this Latin-infused dance class also features salsa, reggae, and belly dancing. It's fun and engaging for beginners, seniors, and all levels.
Are Strive onsite group fitness classes covered by insurance?
Yes. Strive workplace fitness classes are covered by comprehensive liability insurance. It includes:
Workers compensation.

Provision of services that fully indemnify your organization of risk.

Meeting or exceeding most corporate risk profiles.

And it meets or exceeds most property management requirements.
We're proud to share that since our founding, Strive Well-Being has never had an injury claim.
Can I adjust program offerings after Strive onsite group fitness classes start?
Yes, you can adjust class offerings, instructors, or schedule at any time. Adding sessions of popular classes or changing class offerings is no problem. Once your onsite group fitness classes are up and running, Strive tracks employee participation. You'll receive regular reports, analyzing effectiveness of your program. We'll keep working with you, providing marketing and engagement assistance, ensuring your program succeeds.
What equipment is needed for Strive onsite group fitness classes?
Most Strive onsite group fitness classes don't require equipment. However, for specialty classes like Pilates or spinning, necessary equipment packages can be purchased directly from Strive. Resistance bands, weights, and stability balls are available from Strive. Your project manager will coordinate equipment delivery and class locations for you. Strive makes workplace fitness easy!
How about marketing Strive workplace fitness classes?
It's easy! We'll design marketing materials for your program. That way, you can generate excitement among employees about upcoming classes.
How is enrollment handled for Strive Well-Being onsite group fitness classes?
Strive handles class enrollment online or via onsite sign-up sheets. We distribute and manage electronic employee liability waivers. Your Strive project manager will streamline your wellness initiative.
What if I have employee locations nationwide?
Strive Well-Being operates nationwide. With Strive it's easy to add onsite fitness classes at any location you have offices or facilities.
What's it like working with Strive?
Your designated Strive project manager will take care of your entire program, including:
Staffing (pre-screening, background checks, hiring).

Arranging equipment.

Coordinating location/facilities.

Employee marketing (flyers, posters, email templates).

Enrollment (online scheduling or sign-up sheets).

Reporting and program assessments.

Billing (directly invoicing your healthcare provider, when possible).

All program administration.
Can I use Wellness Dollars with Strive?
Yes. You can use Wellness Dollars with Strive. In fact, we provide onsite fitness classes for most large health plans nationwide. And we've achieved strategic vendor status with many health insurers. This allows us to directly invoice your healthcare provider for approved wellness services. You can use Wellness Dollars or other employee wellness funding options. We'll work with you to offer classes that are partially- or fully-funded by employee contributions.
Clients Love Strive Well-Being
Over the past 10 years, we've supported virtually every industry sector, including many Fortune 500 companies and government agencies.