Workplace Nutritionists and Fitness Coaching Onsite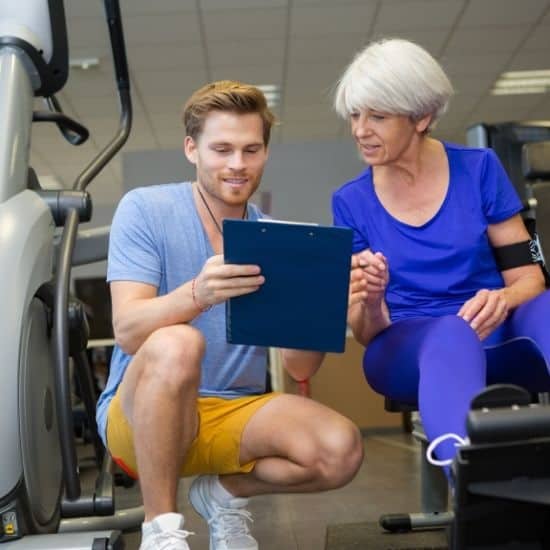 Nutritionists and Fitness Coaching Onsite
American obesity levels are at an all time high. Fitness levels are at a low. Only one-third of adults get the recommended amount of physical exercise each week. Americans' overall lack of physical activity and poor nutrition has been linked to the development of chronic conditions. 
Nutritionists and Fitness Coaching onsite by Strive can help reduce heart disease, osteoporosis, and some types of cancer in your workforce.
Nearly 78 million adults and 13 million children in the United States deal with the health and emotional effects of obesity every day, according to the American Heart Association.
Obesity is just the tip of the iceberg, when it comes to fitness and nutrition concerns in America. Our overall lack of physical activity and poor nutrition is linked to the development of chronic conditions: 
Heart disease
Osteoporosis
Some types of cancer
Nutritionists and fitness coaching onsite help reduce these risks and associated healthcare costs. Our programs are offered by: 
Employers
Residential communities
Other organizations
Alarming statistics show that most American diets include:
fewer whole grains, fruits, and vegetables than recommended.
600 calories more now than they did in 2008.
28 additional pounds of fat per year than they did in 1970.
American salt consumption is especially concerning. About 90% of us consume too much sodium each day, averaging 3,400 mg. Lowering consumption to 2,300 mg, slightly under the federal recommendation of 2,400 mg could lower associated medical costs by $20 billion a year.
Lack of food safety awareness is a concern. We worry about getting sick eating at restaurants. However, many Americans don't know:
How to safely handle raw foods.
Basic refrigeration rules.
Safe cooking temperatures.
How long it's safe to leave leftovers in the refrigerator.
Roughly one in six Americans get food poisoning each year. That means 48 million getting sick, and 128,000 winding up in the hospital. Food poisoning is responsible for 3,000 deaths each year!
U.S fitness levels are equally-alarming. Only one-third of adults get the recommended amount of physical exercise each week. A mere 20% of Americans meet recommendations for both cardiovascular and strength training exercise. On a day-to-day basis, less than 5% of people exercise for 30 minutes. And 80 million Americans (28%) are physically-inactive. Americans need help with nutrition and fitness. That's where Strive nutritionists and fitness coaching steps in.
Who are Strive nutritionists and fitness coaches?
They're certified according to national standards. Most have degrees in exercise, nutritional science, or other fitness-related fields. Having undergone background and reference checks, they meet our experience requirements. So they know how to encourage, educate, and motivate your employees to meet their wellness goals.
Strive nutritionists and fitness coaches help your employees create lifestyles that meet overall health, nutrition, and well-being needs. This includes:
eating the right foods in the right proportions.
combating fitness challenges – like sitting in an office chair all-day.
Workplace nutritionists provide a selection of services for employers. They'll offer recommendations for improving company-offered food. Vending machine snacks or break room treats can be healthier. The employee cafeteria can be reworked to provide healthy, balanced menus. We work to help employees meet nutritional needs. Nutritionists work directly with employees to:
Provide education on nutritional guidelines and recommendations.

Offer easy-to-implement suggestions- like adding fresh fruit to morning cereal.

Create individual nutrition programs.

Share nutritious recipes.

Give healthy cooking demonstrations.
Studies show that employee nutrition programs are associated with:
Reducing the risk for serious health conditions.
Lowering employer health costs.
A natural complement to an onsite nutritionist, is onsite fitness coaching.
What is a fitness coach?
A fitness coach is a trained professional who helps employees adopt healthy behaviors. These behaviors go beyond the gym or a structured exercise program. They may include more walking, at-your-desk stretching, or sticking with a workout plan. They're different than personal trainers or group fitness classes. Fitness coaches provide information about physical and mental well-being. They offer advice and motivation. And provide specific instructions.
Is fitness coaching effective?
Yes, indeed. Research shows that fitness coaches improve functional capabilities and motivation. In one study, college students reduced sitting time after getting emails, texts, and phone calls from a fitness coach, over six weeks.
What's it like working with Strive?
You'll be assigned a personal program manager to oversee your workplace nutritionists and fitness coaching onsite. This single point of contact will take care of your program, including:
Accommodating your budget, by identifying your personal needs.
Generating program awareness, via providing marketing materials.
Coordinating instructor availability, staffing, and scheduling.
Distributing and managing employee liability forms.
Indemnifying your organization of risk with liability coverage.
Assessing participation and engagement via program reporting.
Managing all administration and invoicing.
As a strategic vendor, we've developed relationships with major health plans. Thus, we can directly bill many insurance companies for your program. Our offerings can be fully employer-supported. Or employees can contribute on a per-session basis.
How does Strive fitness coaching and onsite nutritionists work?
The programs can be part of your workplace fitness and wellness initiative. Visit frequency is based on your needs and budget. Or offer them as a wellness challenge, health fair, or employee fitness event. Employees can have telephone access to Strive wellness professionals. No matter how your program is structured, your employees will get customized nutritional advice and fitness programs. We'll accommodate each participant's circumstances or limitations. 
Strive has a network of qualified professionals. So your program can be delivered at any U.S. location.
We'll accommodate your budget needs. Strive works with Wellness Dollars and health initiative funding efforts. You can add services to your workplace fitness and wellness program any time. Complimentary services are: 
Stress management programs
Onsite personal training
Onsite stretching classes
Musculoskeletal strengthening programs
Let us cater to your needs for employee wellness. Every Strive service you offer, will be integrated and managed by your program coordinator. This minimizes administration and invoicing paperwork for your organization.
Strive makes wellness easy!
Clients Love Strive Well-Being
Over the past 10 years, we've supported virtually every industry sector, including many Fortune 500 companies and government agencies.