Workplace Stress Management Programs
increase engagement and productivity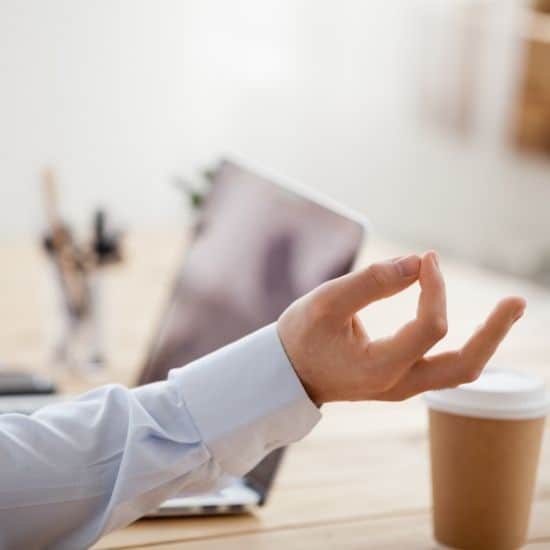 Workplace Stress Management Programs
Employer-sponsored on-site stress management programs are popping up in workplaces all over. Tech giants to accounting firms and government contractors are offering them. Strive stress management programs for employees are efficient for:
Boosting employee health and wellness
Increasing engagement and productivity
What is stress?
In medical terms, "stress" is your body's reaction to change. Whether physical or mental, positive or negative, anything that makes your body adjust is considered stress. In practical terms, stress is generally negative. It often refers to anything that puts your body or mind under strain or tension. This could be family issues, money concerns, or worries caused by work.
It's no secret that stress in America has spiraled out of control. You probably know that stress isn't great for your employees or for business. That's why organizations are taking proactive steps to help employees manage stress at work. To understand how a workplace stress management program can benefit your workforce, it's important to understand exactly what stress is. Then take a look at how it negatively affects your employees.
What are negative effects of stress?
Negative effects of stress are wide-reaching. They impact health, attitude, and behavior. Stress-related health issues include:
headaches
insomnia
stomach cramps
chest pains
reduced sex drive
Stress can cause serious mental health issues – increasing anxiety and anger or resulting in sadness and depression. Stress coping symptoms include:
overeating
turning to drugs or alcohol to relax
or even prone to violent outbursts
What factors contribute to stress?
Several factors contribute to stress in America. One of the most common is workplace stress.
61% of Americans report feeling stressed about work.
73% experience regular physiological symptoms.
77% regularly experience physical symptoms.
What's causing all this stress at work? Surveys report top causes of workplace stress to be:
Difficult work
Inconsistent hours/long workdays
Limited resources
Having no control
Tight deadlines
Unreasonable workload
Consequences of workplace stress are alarming. Yelling, crying, and physical violence are attributed to workplace stress. In fact, 54% of workers report fighting with friends or family due to work-related tension. Stress is a factor in 60-80% of workplace accidents. These occur when employees are fatigued or distracted.
What is the impact of stress on employers?
Stress has a huge impact on employers. Some facts represent this:
Nearly one million workers worldwide, miss work daily, due to a stress-related issue.
Employers pay $602 per year, for each employee who misses work.
Healthcare costs for stressed workers are 42% higher than for their non-stressed counterparts.
Employers lose $300 billion annually in absenteeism, turnover, and lower productivity.
Some workers sued employers for stress-related workers compensation claims.
Employers need to be proactive about helping employees deal with workplace stress. As a result, many are providing workplace stress management.
Of employers taking steps to reduce workplace stress, results are overwhelmingly positive. In instances, employee turnover has dropped to 6%, compared to a 38% national average. At employers with stress management programs in place, only 19% of employees report chronic stress. This compared to a 35% national average. And employees report higher rates of job satisfaction.
What's included in stress management programs?
Companies offer wellness incentives and fitness benefits, like:
Complimentary yoga classes

Paid time-off

Telecommuting options

Seminars and training programs

Stress management techniques
One tech giant added several wellness centers to its campus. They deliver thousands of hours of free massages to employees.
Some companies adopt pets to help decrease employee anxiety. Many businesses incorporate breathing or meditation classes. The options are limitless. To be effective, experts recommend employer-sponsored stress reduction programs:
Add activities specifically designed to release stress, like yoga classes or massages.
Provide healthy snacks to fuel employee bodies and minds.
Offer organized exercise, like group classes or regularly-scheduled walks.
Reinforce positive messaging and communication.
Retain flexibility and fun.
How do I get started with a Strive stress management program?
You'll be assigned a Strive program coordinator, as your point of contact, This contact will take care of all the details. Your Strive program coordinator will:
Customize your program.
Recruit licensed practitioners.
Coordinate the implementation.
Manage the invoicing.
You'll even get marketing materials to support your program. We'll provide reports tracking employee participation and engagement. You can adjust your program at any time. Best of all, your stress management program can be incorporated into any Strive program or service. All your employee wellness needs will be handled in one place.
Strive Well-Being stress management services are varied:
Mindfulness/meditation classes
MBSR program
Breathing/relaxation classes
On-site chair massage services
Yoga classes
We make it easy to implement stress management programs in your workplace! 
Clients Love Strive Well-Being
Over the past 10 years, we've supported virtually every industry sector, including many Fortune 500 companies and government agencies.