Workplace Fitness Onsite Yoga Classes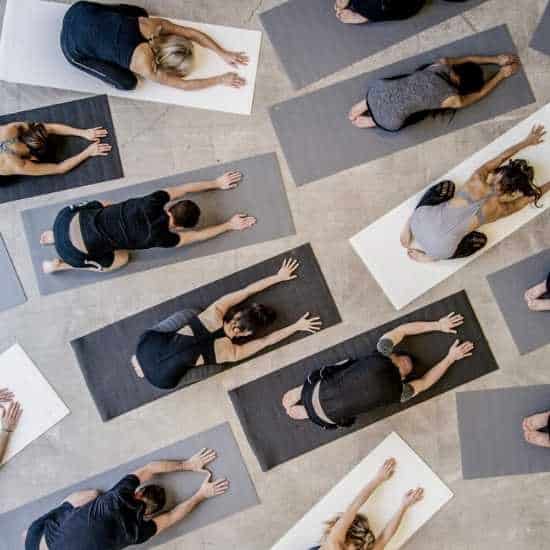 Workplace Fitness Onsite Yoga Classes
Are you an employer, looking for ways to help your employees get fitter, while lowering stress levels, blood pressure, and tension?
If so, Strive workplace fitness onsite yoga classes are the solution you need! 
Workplace Fitness Onsite Yoga Classes are our hottest program!
Yoga has exploded in popularity over the last decade, with more than 36 million Americans practicing regularly. Yoga has become very popular with older Americans. Roughly 14 million yoga students are over age 50!  In fact, it's now a 16-billion-dollar industry – and not just because yoga pants are so comfortable! Americans are turning to yoga to improve strength, flexibility, overall fitness, and mental well-being.
Many people pursue yoga as a form of exercise, with classes offered at gyms, community centers, and yoga studios everywhere. There are a range of different types of yoga. Each instructor focuses on different aspects of the practice. Most yoga classes include three basic elements: poses, breathing, and meditation.
What are the roots of yoga?
The practice of yoga can be traced back to the earliest days of civilization. They evolved from a spiritual discipline that focuses on uniting the mind and body in harmony. In fact, the word yoga itself is derived from Sanskrit and literally translates as "to join" or "to unite." According to legend, yoga began when the first yogi – the "Adiyogi" – stood near a lake in the Himalayas and shared his knowledge with the seven sages – the Saptarishis. Those sages then carried the science of yoga to every corner of the globe. The practice took root most fully in India, where the sage who arrived worked to craft Indian culture around the principles of yoga. These principles include uniting individual and universal consciousness, creating harmony between yourself and nature, and achieving self-realization.
Is yoga religious?
While yoga is considered spiritual, it's not religious, and there's no belief system or set of rules involved. Anyone can practice yoga and reap the benefits. 
What are the physical benefits of yoga?
The physical yoga poses improve balance and flexibility. As a form of exercise, yoga has many benefits for physical fitness:
Increases strength and range of motion.
Is shown to reduce pain and depression in patients with chronic back pain.
Can be practiced to help manage diabetes.
Helps cancer patients improve sleep quality and overall well-being.
Is associated with reduced blood pressure.
Does yoga help manage stress?
Yes. Yoga has many benefits for stress management. Benefits include reduced anxiety and a boosted sense of mental wellness. One study found that college students who participated in yoga experienced:
Reduced levels of anxiety
Less tension
Reduced depression
Not as much anger
Lower amounts of fatigue
Less confusion
Strive onsite yoga classes include a range of yoga styles. Our classes are designed to help your employees improve physical health, and handle stress and tension. Workplace yoga classes boost engagement and satisfaction levels. They help organizations reduce workers compensation and medical claims. 
How important is breathing in yoga?
Breathing is an important element of yoga. Pranayama – or deep breathing – slows your heart rate, reduces stress, and helps to create a feeling of calmness. During a yoga class, controlling your breath is a way to help control your body and your mind.  
What are yoga moves called?
Poses – also known as asanas or postures – are the physical movements of yoga. An instructor guides you to align your body in specific positions that increase strength and flexibility. Practicing poses is called Hatha yoga, which is the physical aspect of yoga that helps to prepare your body for increased energy.   
Is meditation a part of yoga?
Meditation is the portion of yoga that focuses internally, as opposed to the external processes of posing and breathing. Dhyana and Dharana – meditation and concentration – involve trying to distill your focus to one point, which is often accomplished by repeating a mantra. Through this meditation, you learn to be present in the moment and reap the benefits of mindfulness.   
What are Strive onsite yoga class options?
Strive onsite yoga class options are:
Classic Yoga
Designed for students of all levels. Classic yoga focuses on enhancing awareness, strength, flexibility, balance, and posture.
Fun Flow Yoga
These classes flow from pose to pose and emphasize present awareness. Emphasis is on proper alignment and breathing techniques.
Gentle/Restorative Yoga
Great for beginners or students with injuries or arthritis. The use of props gently helps relieve pain and stress. The result is improved motion and mobility.
Hatha Yoga
These "feel good" classes are super for students of all levels. Hatha yoga combines holding postures longer and slowing down meditation. The end result is achieving optimal health and well-being. 
Kundalini Yoga
Using breath and movement to decompress the spine and relax the body, these classes develop flexibility and muscle tone. Added benefits are a boosted nervous and immune systems. 
Power Hour Yoga
Designed for experienced students, these fast-paced classes focus on strength, endurance, and present awareness. Students are led through an engaging sequence of postures and breathing techniques.  
Vinyasa Flow Yoga
Vinyasa flow classes combine deep breathing and fluid transitions through carefully-planned poses. These classes improve balance, strengthen and lengthen muscles. The end result, is a sense of calm.    
Do I need to have a fitness program running to add Strive onsite yoga classes?
Our workplace fitness onsite yoga classes can be delivered alone or in conjunction with other classes. You can incorporate any Strive classes into employee stress management. Choose between employer-sponsored onsite yoga and classes partially- or fully-funded through employee contribution.
Who are Strive onsite yoga instructors?
Strive works only with pre-screened certified yoga instructors. Instructors for Strive workplace wellness and fitness onsite yoga classes are credentialed by Yoga Alliance. We'll arrange any equipment needed to get your onsite yoga classes up and running. We'll provide you with marketing materials to get your employees excited about the classes. Strive will take care of enrolling participants and distributing and managing electronic liability waiver forms.   
How will my Strive yoga program be managed?
Your Strive project coordinator will be your designated point of contact for your onsite yoga classes. They will handle all: 
Planning
Marketing
Staffing
Enrollment
Program assessment
Billing
We make workplace fitness easy. And YOU will be the star! 
How does Strive workplace yoga program work?
Strive will assist you all along the process, creating a curriculum of onsite yoga classes to help your employees manage stress. We'll assign a project coordinator to lead you through the process. Whether your program is offered in one location or at facilities across the country, your coordinator will handle every detail.
Once your Strive onsite yoga classes are underway, we'll generate regular reports to assess employee participation and engagement. It's easy to make real-time adjustments. Everything is managed and executed by your Strive project coordinator. Along the way, you'll be able to add additional stress management or fitness classes. Strive is your wellness partner in creating a comprehensive employee wellness program.
What about liability issues of an onsite yoga class?
Your company will be covered by Strives' comprehensive liability insurance coverage. This includes workers compensation and a provision of services, that fully indemnifies your organization of risk.
Clients Love Strive Well-Being
Over the past 10 years, we've supported virtually every industry sector, including many Fortune 500 companies and government agencies.