What Do Employees Want in a Wellness Program?
Taking care of your employees' well-being has never been so clearly beneficial. Historically, workplaces haven't felt responsible for investing in employee well-being outside of compensation and benefits. But with workplace stress at an all-time high of 57% in 2021 and continuing to climb, organizations are acknowledging the importance of stress management resources and programs. Workplace wellness is no longer an amenity — it's a vital business strategy.
Not only do employees expect wellness support at work, but well-being is also in the top three criteria for what employees prioritize in a job search. Talented workers want a flexible work environment that supports well-being and creates wellness opportunities, and it's a significant decision-making factor when choosing or leaving an organization.
Employers dedicated to employee retention invest in wellness initiatives that foster long-term engagement outside of walking challenges or an annual health fair. The organization's mission and policies should reflect a commitment to well-being that enables employees to perform and live well.
Successful wellness programs support aspirational lifestyles and inspire employees to find their purpose within the organization's big-picture goals.
What Employees Want in Health and Wellness Programs
In this post:
What's Keeping Employees from Participating in Wellness Programs?
Psychology teaches us that a person can be consciously aware that daily stretching is a health benefit to their body, but without coaching, tools, or support, they'll likely not act on it.
When implementing a wellness program, it's imperative to reduce potential deterrents and build initiatives into daily routines. The nature of the workplace is fast-paced and task-oriented, so wellness initiatives that are inconvenient or irrelevant to the population reduces employee participation.
Employee participation requires multi-level leadership support. The C-suite can launch the program, but if an employee's supervisor disapproves of them attending a stretch break class to meet a deadline, it's obsolete. Other items employees need from leadership are:
Collaboration in the wellness program's design
Consistent communication regarding class reminders, schedule changes, or event announcements
Consistent support, trust, and privacy for initiatives like mental health counseling or weight loss challenges
The easiest way to design a wellness program for maximum employee engagement is to ask the population it's serving what their needs and interests are.
Elements of an Employer Wellness Program Employees Will Engage in
So, what do employees want in a wellness program? An experience that goes beyond checking the boxes or perks and policies — they want a chance to break old cycles and form positive habits, thoughts, and processes that enrich their lives. This intrinsic motivation is more valuable than material prizes or incentives.
Personalization, Flexibility, Variety, & Consistency
With remote or hybrid workforces being prevalent, having the flexibility of both onsite and live-streaming or virtual options is guaranteed to boost employee participation. Instructors, coaches, and specialists must remain engaging, credible, and at times accessible for one-on-one support to form personal connections. They should have the experience to notice if a class is too easy or too difficult for their participants so they can make modifications to their instruction.
Classes, health talks, or workshops should be convenient and have variety.
Employees are looking for programs that help them connect their everyday choices to the results they achieve, which requires consistency and health education. While some employees may be devoted to fitness classes, other offerings outside of fitness, such as cooking demonstrations may have a more significant impact on a portion of the population. Wellness offerings relevant to multiple groups make the most considerable impact.
Discover some of the best wellness program offerings of the year.
Total Well-Being
Addressing well-being is not limited to working out and eating healthy — wellness initiatives should impact each of the eight pillars of total well-being: physical, social, emotional, occupational, financial, spiritual, intellectual, and environmental.
While yoga and chair massage sessions certainly have their place in a wellness program, it's not all-encompassing. A more well-rounded approach would include offerings like:
Stress management & resilience training to support mental and behavioral health
Personal finance workshops/webinars to help employees plan for the future
Company support to volunteer, mentor, etc. to lower stress and depression, and increase brain function
Authentic Wellness Culture
Without a doubt, a wellness culture begins at the top. Leaders and managers can influence everyday workplace culture with new norms that employees can embrace together. Managers promoting well-being, well-being centered collaboration, and team-building influence employees to have the same mentality. This increase in employee engagement and commitment will positively impact overall business goals.
Employee participation in a wellness program relies upon an environment that enables wellness. From multi-level leadership participating in wellness offerings to kitchens or vending machines stocked with healthy options, to employer-sponsored time/support to participate in wellness initiatives, incorporating wellness into the organization's policies and protocols is imperative for engagement.
An authentic wellness culture is evidenced by employees that form strong relationships, feel financially secure, are engaged and energized at work, and seize opportunities to develop others.
Learn even more tips for optimizing wellness engagement in the workplace.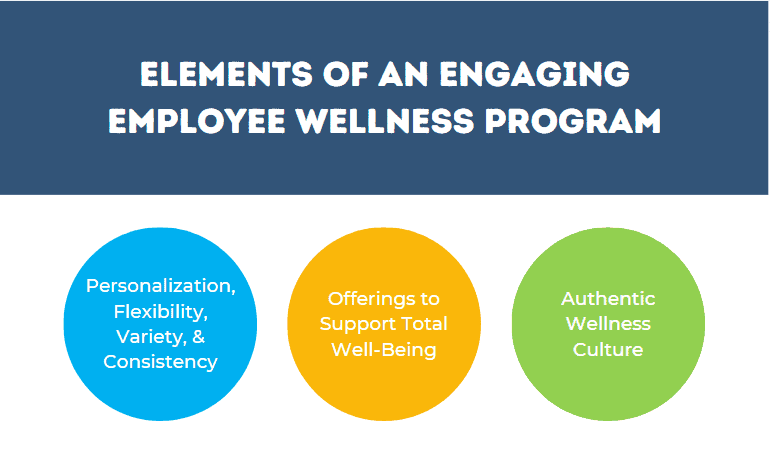 Strive Corporate Wellness Programs
Organizations that choose Strive to implement or supplement their wellness programs benefit from our best-practice employee survey to help determine what matters most to their employee population. This is vital as it builds the program's framework and lays the foundation for employee participation and collaboration, which leadership can be excited about, too.
Also, our program flexibility allows us to tailor wellness services that are exclusive to every organization, providing a unique variety of resources to address all eight pillars of well-being.
Get in touch with a Strive wellness expert today by booking a discovery call.