5 Best Corporate Fitness Companies
One of the biggest assets for a corporate fitness program is having the right partnership to manage the increased administrative load of a fitness program. We've curated five companies that can help businesses achieve more with their fitness programming.
5 Strategic Partners to Build a Fitness Program
The State of Corporate Fitness in 2023
COVID-19 forced many workforces to convert to remote work. As organizations found their footing and could bring their workforces back into the workplace, many organizations chose to adopt a hybrid workforce model. This meant their choice of fitness offering changed. In fact, two of the most talked about offerings employers want to include in their fitness programs include virtual fitness classes and one-on-one health coaching.
Check out the 5 Best Employee Wellness Programs for 2023 for the full list.
What this means for many companies is having to find additional vendors to expand their corporate fitness training. Ideal vendors can integrate their services with an organization's current system and processes.
Strive fitness programming is perfect for organizations looking to engage employees regardless of how established their wellness program is. We have experience working with clients who are just starting out and organizations with longstanding programs and dedicated wellness teams.
Every client has a Strive account manager as their point of contact to help our clients achieve their wellness initiatives.
We offers three modalities for enhancing a corporate fitness program that can be hosted onsite and virtually:
Live fitness classes
Fitness workshops
One-on-one fitness coaching
Fitness Classes Available Onsite & Virtually
Before scheduling classes for each of our clients, we have a kickoff meeting before administering an employee needs & interests survey to help our clients determine the best times and workouts for their employees. Our approach ensures we're capturing the most signups at the beginning by hosting classes that fit employee schedules.
All our onsite and virtual classes are exclusive to the client, so employees don't have to share class time with people outside of the organization. However, employers can choose to open up their classes to employee families, friends, as well as anyone else the employer chooses. This format lets our instructors customize each class to the needs of the employees.
Our fitness classes are also progressive with lesson plans that our customer success team audits to ensure our clients' employees are engaged every session. We also have multiple feedback channels to continuously improve the quality of classes.
The large network of certified instructors we've created supports a wide variety of class offerings. Popular classes include yoga, pilates, and zumba.
Onsite & Virtual Fitness Talks
Our clients love to complement their fitness programs with health talks. We work with each client to determine which topics their populations are interested in. We then source a certified expert to produce the talk for our clients to review. Our experts can cover topics that span across all eight pillars of wellness.
Clients prefer our virtual health talks over onsite talks because of higher employee engagement. We also provide a recording of the workshop for clients to build their own wellness resource library.
One-on-One Fitness Coaching Available Onsite & Virtually
Employers looking to deepen their fitness programs can look into one-on-one coaching for their staff. Scheduling a coach can be done on an as-needed basis and employee convenience.
Fitness Registration & Liability Waiver in One Place
One of the pitfalls organizations can fall into is not having an efficient way for handling employee sign-ups and liability waiver forms. Our registration platform handles registration and liability waivers and stores the information electronically.
Clients are also able to access their employee engagement metrics to track performance and fine-tune their program offerings. Our platform and account manager give clients the flexibility and speed to pivot as needs arise.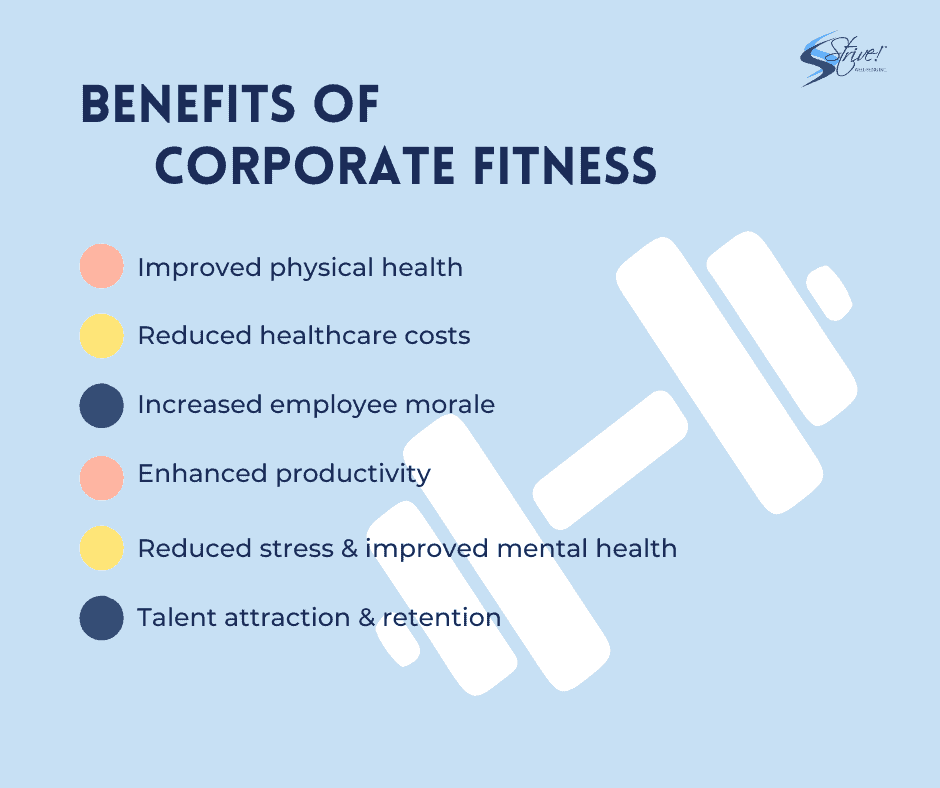 Wellbeats focuses on three pillars of wellness: fitness, nutrition, and mindfulness. Their services are completely virtual and are available on-demand. The company focuses on providing high quality content that employees can access at all times of the day. Wellbeats has flexible pricing, charging based on a company's size. Wellbeats' services can be a compelling addition for organizations that are looking to supplement their fitness programs with on-demand content.
Starting as an onsite corporate fitness solution, CFW has developed virtual offerings for the evolving workforce. Their virtual streaming service is offered to organizations at PEPM pricing. CFW also offers an upgraded package called the Fit Experience, which provides services that emulate the CFW onsite fitness center experience. The company also offers fitness center management and design services. CFW's streaming service is good for organizations who have employees who are already actively participating in their own wellness.
Millennium is another company that offers fitness center services, which includes group exercise classes. They have two categories of classes: mindbody, and specialty. These offerings are available onsite, virtually, and on-demand. Millennium also offers health education presentations that are based on government resources and other health promotion services.
Like Millennium, Exos is another fitness management company that offers a wide variety of products for employers. Exos has developed an app for providing an integrated approach to employee fitness through 1-on-1 coaching, classes, and challenges.
Looking to Improve a Corporate Exercise Program?
Our service pricing is fully-burdened to include the programming, account manager, and technology. All our services are turnkey and tailored for each client, so they can build fitness programs that their employees want without sourcing from multiple specialized vendors.