Workplace Health Coaching
Improves Health and Reduces Stress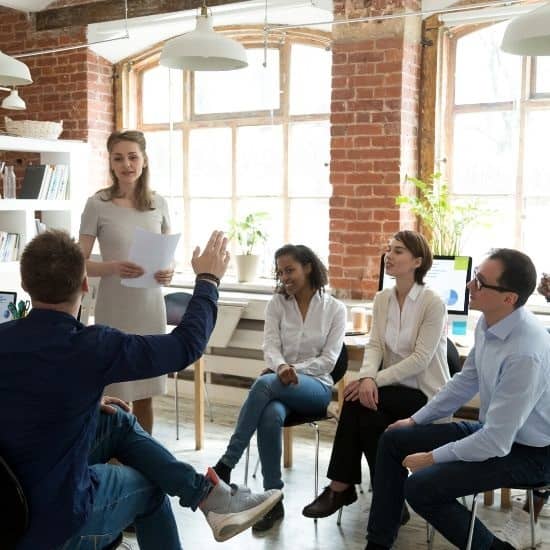 Workplace Health Coaching
Improves health and reduces stress among employees, providing a supportive work culture and reducing healthcare costs. Health coaches help employees make behavioral changes and reduce their risk factors for disease. The result is lower healthcare costs for employers. A health coach is a certified wellness professional who:
Educates your employees about health-related topics.
Helps identify health-related goals.
Creates personalized plans for meeting those goals.
Workplace health coaching improves health and reduces stress
When it comes to our health habits, there's a big gap between knowing what you need to do to be healthy and doing it. For example:
While 72% of Americans recognize the need for healthy eating habits.
71% recognize the need for exercise to boost health and improve odds for a longer life.

Only 41% report eating healthfully each day.
And 52% meet daily recommendations for aerobic exercise.
How is health coaching different than a personal trainer?
Health coaching varies from fitness coaching, personal trainers, or professionals with fitness-related certifications. Health coaches are trained and certified in healthcare and wellness related fields. They provide health improvement strategies and specific instruction. A health coach will look at each client's health risk factors and create a plan to reduce risks and improve health. They're not medical professionals and can't diagnose or treat medical issues. However, a health coach works with medical teams managing health conditions and preventing additional issues. 
Poor eating and bad exercise habits increase risk of developing preventable diseases. And it leads to obesity, which affects more than 35% of Americans. In the United States, leading causes of death are heart disease and cancer. Studies show that 34% of premature deaths from heart diseases and 21% of premature cancer deaths could be prevented, if Americans made behavioral changes like:
better nutrition
weight loss
increased physical activity
It would result in over 175,000 Americans living longer lives each year. Thus, programs like Strive health coaching are gaining popularity as an important component in employer wellness programs.
Is health coaching effective?
Yes. Research shows that health coaching helps participants:
Control chronic conditions like diabetes and high blood pressure, both of which increase the risk of cardiovascular disease.

Lose weight, with participants in a 24-week weight-loss program working with health coaches losing an average of 9% body weight – and over half of them losing 10% or more body weight.

Meet daily exercise goals through remote coaching, with an interactive video component.
It's an evidence-based and outcomes-based approach to minimizing health risk factors. Research shows it's incredibly effective. One study found that 89% of participants who received health coaching by telephone for six months or less, met one of their goals. They made improvements in nutrition, exercise, stress levels, motivation, and overall physical and mental wellness.
Health coaching reduces healthcare costs for employers. One study found that participants working with health coaches from four weeks to six months, reduced outpatient costs by $286 per month. Their total monthly savings were $412.
Another aspect of health coaching involves motivation and follow-through. Strive health coaches motivate your employees commit to better health and follow through on steps to do that. They don't focus on short-term diets or temporary workout programs. Rather, they provide the foundation for a lifelong commitment to wellness. Forming a personal relationship with each client, health coaches put themselves "on the same page" and understand when and why a client may be struggling. They tailor the approach and adjust behavioral modifications, based on what the client needs.
Who are Strive workplace health coaches?
Strive health coaches are certified by ACE or by Wellcoaches which require CPR, AED and other wellness credentialing for enrollment in the health coaching training program. We conducts background and reference checks and require workplace health coaches to meet minimum experience requirements.
How does it work?
Strive health coaching is available onsite. Or the sessions can be delivered via telephone or Skype. Phone and online sessions are convenient for remote employees, or those located in offices across the country. Sessions can be scheduled based on need and employee convenience. Many employers make health coaching available monthly. Others provide weekly coaching sessions, with high engagement.
Workplace health coaching can be added to your existing workplace fitness and wellness initiative or offered as a stand-alone benefit for your employees. All of our workplace wellness services can be combined with employer-sponsored fitness initiatives like stress management or musculoskeletal strengthening.
And health coaching is a qualified medical expense under the House and Senate Health Savings Acts of 2016. We'll work with your organization to find financing options that meet your needs – including Wellness Dollars and other funding initiatives. We're a Strategic vendor with many health insurance providers. This allows us to directly-bill for your health coach services.
What's it like working with Strive?
It couldn't be easier! We'll appoint a single point of contact to handle every aspect of your program. We take care of:
Marketing the program. We provide flyers, posters, and email templates to share with your employees.
Hiring pre-screened, certified health coaches.
Distributing and managing employee liability forms.
Managing your health coaching schedule. This includes employee enrollments and session scheduling.
Program administration and invoicing.
We schedule all sessions, whether in person, by phone, or online. Let Strive make your work easier, by reducing paperwork and hassle. Deliver Strive programs in one location or nationwide. No matter how simple or extensive your program, the entire initiative is handled by your Strive project manager.
We make wellness easy for you!
Clients Love Strive Well-Being
Over the past 10 years, we've supported virtually every industry sector, including many Fortune 500 companies and government agencies.