Fitness Center Staffing & Management
is a premier solution to your gym or fitness club operational excellence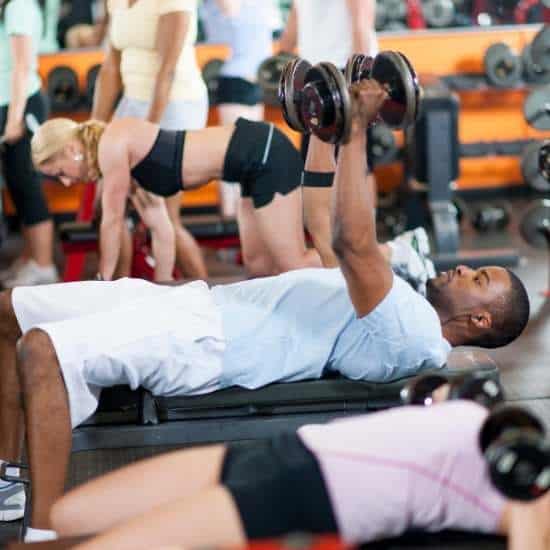 Fitness Center Staffing & Management
There are more than 36,000 health clubs in the U.S. Over 57 million Americans have gym memberships, and the industry brings in nearly 28 billion dollars annually. Professional fitness center staffing and management is crucial to their success. 
What are the benefits to onsite fitness centers?
Operating an onsite fitness center for your employees or residents is proven to increase exercise frequency. Thus, it improves health. This results in lower absenteeism and health care costs. Professional staffing of a fitness center is a must-have perk for any community looking to attract and retain talent or residents. Adding an onsite gym to your company, luxury condo building, or government services organization improves the health and fitness of your community. It's a great morale booster, and helps your audience feel engaged and appreciated.
There are many upsides to offering an onsite fitness center. However, it can place an overwhelming administrative burden on your organization. Not to mention, it creates significant liability.
What does it take to run an onsite fitness center?
Running and maintaining a gym can be overwhelming. Administrative responsibilities are burdensome. They include:
Hiring fully-qualified staff.
Organizing class schedules.
Finding the right machines.
Performing regular maintenance.
What are liabilities of running an onsite fitness center?
Employee gyms are a tremendous liability. Hiring pre-screened, certified instructors and finding safe, and reliable equipment is just the beginning. Fitness club members drop weights, trip over or fall off machines, and get injured in exercise classes. They damage machines with incorrect use.
There are significant concerns about how participants use onsite gym facilities. More than 464,000 injuries occur each year, related to exercise and fitness equipment. 52% of injuries are related to free weights, and 36% are related to fitness classes.  
​What are benefits to outsourcing fitness center management?
Outsourcing fitness center management or staffing will:
minimize paperwork
reduce risk
keep your fitness center running at optimum levels
provide maximum benefits to your community
Strive fitness center management lets you focus on the big picture. How your onsite gym is benefiting the community. We provide turnkey management, of all day-to-day fitness center operations:
Developing standardized operating policies and procedures.
Hiring qualified staff.
Finding the right equipment.
Directing and supervising gym staff and activities.
Implementing programs that keep your participants healthy and functional.
Providing quality assurance services.
Evaluating and preparing reports on utilization.
What's it like working with Strive?
Strive assigns a dedicated account executive to work with your organization. They'll help you determine which fitness center management services will best benefit your facilities and your wellness initiatives. Our staff will work in conjunction with your internal wellness committee, facilities or HR team. If you work with food services providers or other vendors, Strive will coordinate with them.
We ensure a well-coordinated, seamless program, providing maximum benefits to your population. Your Strive program coordinator is your single point of contact. They'll promptly address any issues with staffing, scheduling, machines, or operations.
What functions do Strive fitness and management staff provide?
Strive outsourced fitness staff performs a wide range of responsibilities at your employee gym:
Providing oversight and management of the facility.
Processing employee/participation enrollment and liability waivers.
Ensuring members are exercising safely.
Accommodating participant limitations, special needs, or injuries.
Conducting gym orientations and fitness assessments.
Giving personal training services.
Offering health and wellness information and education.
Coordinating the aerobics fitness class schedule.
Integrating the fitness center into other well-being initiatives.
Collecting and incorporating participant feedback for program improvements.
Putting together fun engagement programs and challenges for members.
Working onsite, all fitness staff wear Strive or client-approved uniforms and name tags. This means your audience can easily identify their onsite fitness professionals.
Does Strive provide fitness facility services?
Yes. Strive can provide your employee gym with facility services:
Towel management assistance.
Equipment maintenance.
Safety/risk management.
Can working with Strive improve my fitness center?
Definitely! Strive keeps employees excited and engaged with your facility. We'll:
Provide marketing materials to announce new classes.
Prepare newsletters that share updates.
Report on performance and engagement.
Make on-the-spot adjustments as needed.
What fitness center management services does Strive provide?
Our nationwide fitness center management services are all encompassing.
Fitness Center Management Services
Operational Services
Fitness facility design and development
Daily operations, policies, and procedures
Facility Services
Equipment Management
Preventative Maintenance
Safety and risk management
Towel management service
Janitorial service
Programming Services
Gym orientations
Pre-participation screenings
Exercise programs
Health coaching
Incentive programs
Health and wellness fairs
Engagement Services
Innovative technology platforms
Marketing and communications
Health education seminars and webinars
Newsletters
Reporting Services
Participant satisfaction analysis and reporting
Market demand and interest surveys
What about liability?
Strives' comprehensive liability coverage indemnifies your organization of risk. It includes workers compensation insurance and a provision of services, so you're protected in any circumstance.
Outsourcing your fitness center management to Strive, you eliminate the headaches that come with fitness center operations. We make fitness easy. 
Clients Love Strive Well-Being
Over the past 10 years, we've supported virtually every industry sector, including many Fortune 500 companies and government agencies.