Fitness and Wellness Program Management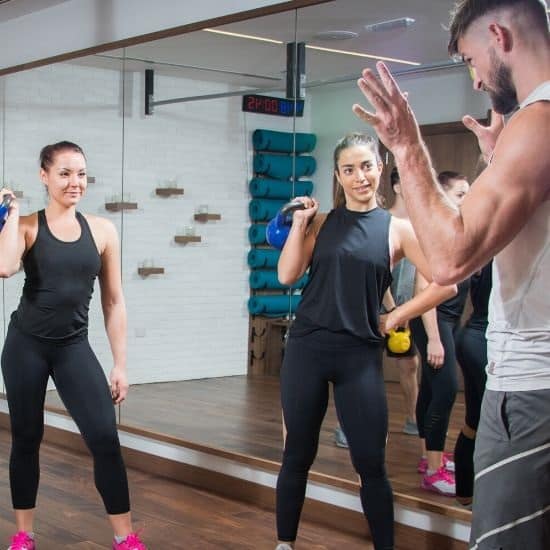 Fitness and wellness program management
Fitness and wellness program management is crucial in the workplace. Employers have embraced fitness and wellness programs. Now 70% of companies offer employee wellness initiatives employees. Wellness and fitness programs have measurable benefits of:
Lowering absenteeism.

Decreasing healthcare spending.

Reducing turnover rates.
Fitness & Wellness Program Management
Workplace fitness and wellness programs sponsored or co-funded by employers, engage employees in activities to improve health and well-being. These programs include various components, based on needs of the employers' workforce:
Exercise elements – Group fitness classes and personal training.
Nutritional elements – Onsite nutritionists and health coaching.
Preventative elements – Health screening events and educational seminars or webinars.
Wellness programs may incorporate stress management resources, like musculoskeletal strengthening (MSK) classes. Fitness programs provide activities and information that educate and engage employees, to achieve better health and well-being. They yield impressive benefits by:
Strive services are great for special events. Daily onsite stretching classes are great for corporate retreats. Onsite chair massages do wonders at professional conferences.
Why outsource fitness and wellness program management?
Wellness programs require a lot of detailed administration. Small companies don't have enough HR staff to manage hiring, equipment sourcing, coordination, and the billing involved. On the other hand, large companies with multiple locations, may need to use multiple vendors, coordinating excessive details. This can be overwhelming to even a dedicated wellness team.
Liability Risks
Employee wellness programs put employers at risk, too. That's when wellness becomes a liability. If your company hires instructors for classes offered to employees, you'll have to verify each instructor carries certification and liability coverage. 
Did you know you could put your company at an even greater liability risk, if you:
Purchase or lease equipment for an employee gym
Offer periodic health screenings
Provide educational seminars
Organize nutritional advice
Strive gives you peace of mind, when it comes to liability. Our liability insurance coverage is comprehensive, and includes workers compensation. Strives' provision of services leaves your enterprise fully-indemnified of risk. And we distribute and manage electronic liability waiver forms. 
We pre-screens all instructors for your program. This includes checking certifications and references. It also covers running background checks. So you're assured of high caliber instructors at your organization. With Strive operations nationwide, we can manage fitness and wellness programs everywhere your company does business.
Strive has experience working with:
hospitals
government agencies
communities
private employers
No matter what your industry or your needs, Strive takes the stress out of managing your employee wellness program.
When you outsource your fitness and wellness program management to Strive, we'll work with your organization on:
Creating internal program structure.
Developing a committee or "wellness champion" strategy.
Determining who takes responsibility for program decisions.
Strive ensures a rewarding program your employees. It minimizes headaches for your HR staff or wellness committee. Perks of Strives fitness and wellness program management:
reduce your staff's paperwork.
simplify your interactions with a single point of contact.
streamline your service providers nationwide.
maximize your Wellness Dollars, or other funding.
directly bill your insurance company, or centralize invoicing.
provide employees with qualified, professional instructors.
ensure safety of equipment and facilities.
program flexibility, based on popularity and success.
comprehensive liability coverage protects your company.
We'll provide you with a program manager as point of contact. Your Strive representative will coordinate:
Staffing, pre-screening, background checks, hiring.
Equipment coordination.
Location, facilities.
Employee marketing, flyers, posters.
Enrollment, online scheduling, sign-up sheets.
Reporting and program assessment.
Billing (directly invoicing your healthcare provider when possible).
And all program administration.
You'll benefit from streamlined billing. As we've achieved strategic vendor status with numerous large health insurance providers. Since we're vetted by these companies, we can directly invoice for qualified client wellness services.
Is your initiative funded by Wellness Dollars?
If so, we'll work with budget and funding resources you provide.
Clients Love Strive Well-Being
Over the past 10 years, we've supported virtually every industry sector, including many Fortune 500 companies and government agencies.