Therapeutic Yoga Helps PTSD Recovery
It's proven successful
in managing pain, relieving symptoms and improving overall quality of life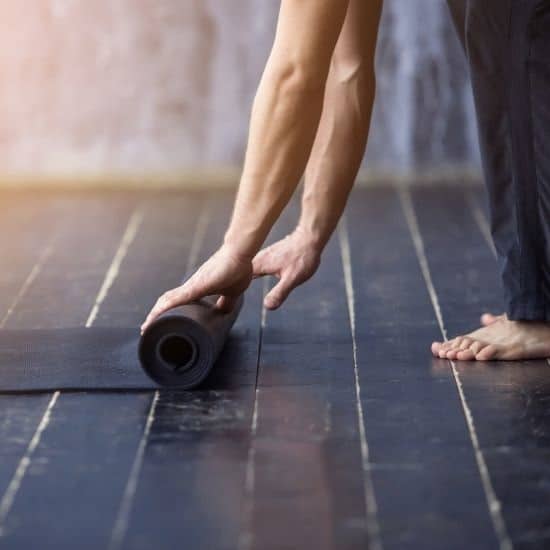 Therapeutic Yoga helps PTSD Recovery
PTSD affects an estimated 7.7 million Americans. Some relive the traumatic experience in flashbacks and nightmares. It can be experienced by anyone who's gone through trauma – from natural disaster to a violent crime. Therapeutic Yoga has proven successful in:
Managing pain

Reducing PTSD symptoms

Improving the overall quality of life
Yoga for PTSD?
Yes, therapeutic yoga helps PTSD. Veterans returning from combat suffer from PTSD, traumatic brain injuries, and other physical and mental conditions. Think about America's troops, and yoga is probably one of the last things that come to mind. However, it's gaining popularity among military service members. All types of yoga have therapeutic benefits; however therapeutic yoga is different than classes at a gym or yoga studio.  
What is Therapeutic Yoga?
Therapeutic yoga, or yoga therapy sessions, use yoga practices and teaching specifically for the purpose of healing. Patients facing physical or mental health challenges, work with yoga therapists to create a personalized program that reduces pain and promotes well-being. Therapeutic yoga programs incorporate:
yoga postures
breathing
hands-on techniques
guided meditation
The National Institute of Health and the American Occupational Therapy Association endorse yoga as an evidence-based "Complementary and Alternative-based Medical" treatment. Research studies increasingly support the results of yoga on a range of medical conditions. Therapeutic Yoga is tailored to the specific needs of an individual or group. It's been used to help a wide range of patients:
Groups with special needs.
Veterans dealing with post-traumatic stress disorder.
Athletes recovering from sports-related injuries.
They benefit from custom-designed yoga therapy sessions, that promote healing and restore balance to the mind, body, and soul.
Is it proven that Therapeutic yoga helps PTSD recovery?
Therapeutic yoga has been applied as a holistic stress management technique for helping participants recover from Post-Traumatic Stress Disorder (PTSD). PTSD is a condition in which the "fight or flight" instinct and fear triggered by a life-threatening situation, lasts for weeks, months, or years after the event occurred. Symptoms of PTSD include:
trouble breathing
tense muscles
elevated heart rate
chronic pain
erratic moods
substance use disorders
Much attention surrounding PTSD is related to its impact on military personnel. PTSD affects:
10-20% of Desert Storm and Iraqi war veterans

11% of soldiers deployed in the war on Afghanistan

31% of Vietnam veterans
PTSD among military personnel is associated with sexual assault, and traumatic brain injury, experienced during combat or in training.
Is therapeutic yoga effective in treating PTSD?
Yes, it is. Studies show promising results using yoga to treat PTSD. Participants with PTSD who engaged in yoga for eight weeks, saw significant improvement in symptoms like insomnia, resilience, stress, and anxiety. Additional proven benefits of yoga for soldiers with PTSD:
improved flexibility and balance

increased blood flow

reduced pain

higher relaxation levels

more balanced mental state
Who are Strive therapeutic yoga Instructors?
Our therapeutic yoga instructors are required to complete a 200-hour yoga teaching training certification from a Yoga Alliance registered school. They have to obtain a significant number of hours in Foundations of Yoga Therapy and Yoga Therapy in Practice. Yoga therapists often have musculoskeletal knowledge, or training in counseling, and stay up-to-date on techniques through developmental workshops, research, and on-the-job practice.
How is Strives' therapeutic yoga program structured?
A yoga therapist will consult with a new patient's doctor or healthcare provider, before the first session. This helps get a full understanding of the patient's diagnosis. They'll learn of any physical limitations to be taken into consideration. The patient will work with the therapeutic yoga instructor to establish goals and create a customized plan for meeting those goals.
Strive yoga therapists offer 60-minute group or individual sessions. Sessions begin with recording pulse rates and measurements on the Subjective Units of Distress Scale (SUDS). This asks each participant to rate their distress, fear, anxiety, or discomfort on a scale of 0 to 100. Therapeutic yoga instructors then teach a variety of asanas, or poses, explaining the benefits of each, and when to practice or avoid each pose. Participants in therapeutic yoga learn:
Why and how to incorporate affirmations.

What chakras are and what impact they have.

Ways to manage physical and mental imbalances.

How meditation and prayer can provide therapeutic benefits.
At the end of each session, pulse rates and SUDS measurements are re-recorded. All records and notes kept by Strive yoga therapists are incorporated into reports. These reports help assess participation, engagement, and results of your therapeutic yoga program.
Looking to grow your wellness initiative?
We'll help you add classes or make adjustments to your Strive therapeutic yoga program. Consider these complimentary Strive wellness programs:
Musculoskeletal strengthening
Athletic training
Certified strength and conditioning
Stress management initiatives
Mindfulness meditation classes
Strive makes wellness easy!
Let our nationwide network of certified professionals, coordinate your program in multiple locations. You'll be assigned a Strive project manager for every aspect of your initiative. No need to worry, even with multiple components or numerous locations, we'll handle everything:
staffing and prescreening
liability coverage
enrollment process
scheduling coordination
administration and billing
providing one source of invoices and paperwork
We make wellness easy for you!
Clients Love Strive Well-Being
Over the past 10 years, we've supported virtually every industry sector, including many Fortune 500 companies and government agencies.